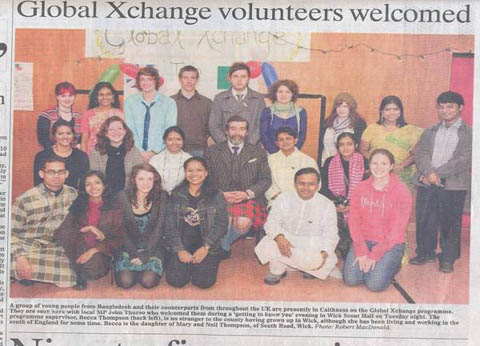 Global Xchange (GX) team 78 has received a warm welcome in the Wick Scout Hall on the 30
th
 September, 2008. Members of the community welcomed them and welcomed there goal to create active citizen within the community.
The theme of this year xchange is 'Building Youth as Active Citizens for Community Development'.
The group members, aged between 18 and 27, are working in different placements with a view to encourage community participation and to contribute in the community development through the GX Programme.
The team will work for three months in Caithness, Scotland and will go to Bangladesh on December 9. They will be working in Chittagong from the mid of December for three months and stay at 10 Host Homes.
The team of 18 young people from Bangladesh and the UK and two programme supervisors took part. Local MP Mr. John Thurso graced the occasion. Members from different Host Homes and Volunteer Placements were also present in the community welcome.
In addition to practical work that is of value to communities in both countries, the young people (aged 18-27) develop skills and attitudes that enable them (both in terms of skills and motivation) to play a much more active role in their communities when they return home.