Global Citizenship Day (GCD) is a regular session of Global Xchange program where different global development issues are discussed with the joint collaboration of international volunteers. The 2nd Global Xchange program is on going in Bangladesh running in partnership of British Council, Voluntary Service Overseas (VSO), YPSA and Nagorik Uddyog.
With this continuation, on the 7th January, 2009, nine British and nine Bangladeshi international Volunteers participated in a GCD with the focal point on "Vision in Volunteering in Interest of Disability (VIVID)".
Participants took part on discussions on disability from the different socio-economic dimensions. Total session plan covered issues regarding WHO policies & classifications, disability in development from social and cultural phases, PRSP & its relevancy with disability aspect of Bangladesh and a case study of Bangladesh on disability issue. The conveners of the program Muhhammad Umar Khaiyam and Aneirin Wenner conducted training to the Global Xchange volunteers about basic Braille and the international sign language, MAKATON (British originated).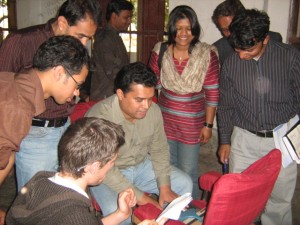 During the program, Chief Executive of YPSA, Md. Arifur Rahman discussed the issue of the Involvement of NGOs on the issue of disability in Chittagong. Also present were Md Mahabubur Rahman (Director of field operation of YPSA), Palash Chowdhury (Director of Finance), Program officer Md Harun, Vhashkar Vhattacharja and the two Global Xchange program supervisors, Saifur Rahman and Becca Thompson.
In one of the sessions, the 18 volunteers planned to take part in a simulation program where they were to practice the guidance techniques of people with visual impairments. The Global Xchange team signed a pledge in Braille declaring that they are alert and compassionate of the rights of people with disability. Md. Arifur Rahman (CE, YPSA) signed the pledge too with GX team in support with this movement.
At the end of the program journalists from different national and regional daily newspapers were present and exchanged their views with all 18 Bangladeshi and British volunteers.