Young Power in Social Action (YPSA) has arranged the Community Welcome Programme for the Global Xchange Team-79 in Theatre Institute Chittagong on the 11th January 2009. Global Xchange Programme in partnership with British Council, Voluntary Service Overseas (VSO) and Nagorik Uddyog (NU). The fist exchange was in 2007 in Houndslow, UK and Rangpur, Bangladesh. The current exchange is between Caithness Uk and Chittagong , Bangladesh. Active global citizenship is at the heart of the programme and its vision is to build a world where active global citizens create positive change and build mutual understanding and respect.
The programme comprises bilateral and regional and international volunteering exchange, which bring together 18 volunteers aged between 18-27 years old with equal numbers coming from the UK and Bangladesh. They have an opportunity to learn more about themselves, and each other, each community, to work for positive change, and to bring benefits to local communities in the Caithness and Banngladesh.
The Volunteers have successfully completed the UK phase and now the 18 volunteers are in Chittagong and started working with NOWZUWAN, Nirmol Foundation, Ghashful, Chittagong Society for the Disabled (CSD), Step to Alleviate Poverty (STAP), Bright Bangladesh Forum (BBF), Banaful Social Welfare Organization, Unite Theatre for Social Action (UTSA) and Young Power in Social Action (YPSA) and they will continue here till the end of February 2009.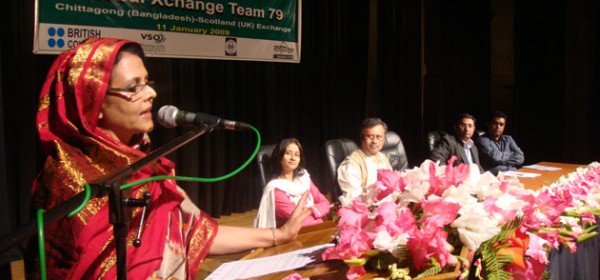 Professor Anwara Alam, Principal of Agrabad Mohila College was present in the occasion as Chief Guest, Md Zakir Hossain, Chief Executive, Nagorik Uddyog; Md. Shafiqur Rahman, Programme Development Officer, Voluntary Service Overseas( VSO) and Tasneem Abedin, Branch Manager, Chittagong British Council, Chittagong were present as Special Guest on the event. The Community Welcome programme was presided over by Md. Arifur Rahman, Chief Executive, Young Power in Social Action (YPSA) & Line Manager Global Xchange Programme. Apart from them other GOs, NGOs, volunteers of different organization, civil society members, media were present on the occasion.
The programme includes discussion, experience sharing and cultural programme presented by the volunteers and the local artist.