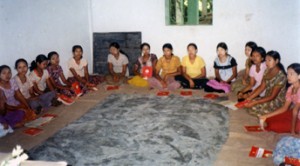 Mr. Shaikh Altaf Ali, Honorable Secretary, Health & Family welfare, Gvornment of Bangladesh visited field level activities of YPSA-GFATM Project package#902 at Cox'sBazar. Dr. Mohammad Rezaul Karim Chowdhury, Director (Health) Chittagong, Dr. M A Rakib, DPM, Malaria Control Program, Dhaka, Dr. A B M Lutful Kabir, Civil Sergeon, Cox'sBazar, Mr. Anup Kumar Basu, Program Manager, Save The Children USA, Mahabubur Rahman, Director Field Operation, YPSA & Focal Person of the project were present among others.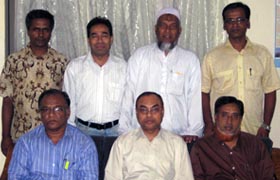 Honorable secretary Mr. Shaikh Altaf Ali visited LSE session at Laldighipar, Cox'sBazar. He discussed with Master trainer, Peer educators & Peers. Master Trainer briefed about LSE activities. Peers also shared their opinion to Honorable Secretary.
GFATM is a collaborative project of Ministry of Health & Family Welfare (MOH & FW) and Save the Children, USA on HIV and AIDS prevention program for youth and adolescents in Bangladesh. Objectives are to provide HIV/AIDS orientation Training and services to the young people via Life Skill Education, Youth Friendly Health Service, and Accessing Condom for youth.
YPSA has been implementing STD/AIDS Prevention Program since 1996 supported by HASAB, FHI, CARE-Bangladesh& other organizations. YPSA is a highly experienced Development organization in Multi Sector such as Advocacy (Worker Rights, Child Rights, Women Rights,) Disaster management, Good Governance, and also the pioneer organization in HIV/AIDS / STI prevention field in Chittagong. YPSA also has expertise and skilled management besides these personnel on STD/AIDS field.
Since November 2004 YPSA has been implementing GFATM project in consortium with other three partners NGOs; HIV/AIDS and STD alliance in Bangladesh (HASAB), Ad-din welfare Center, and Association for Community Development (ACD). HASAB is the lead organization of this consortium and it is implementing this project in Dhaka & Sylhet division. Other two NGOs, Association for Community Development (ACD) in Rajshahi and Ad-din Welfare Center is in Barishal & Khulna. The consortium is a unique one with an aim to compliment and supplement the nationwide coverage both programmatically and geographically.
Package 902 has designed under the following two sub-sectors that are being implemented through the HASAB consortium. These major sub-sectors are Youth Friendly Health Service (YFHS) and Life Skills Education (LSE) & Accessing Condom for Youth (ACY)