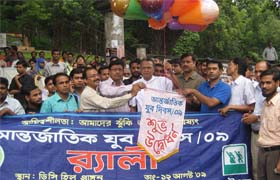 The United Nations General Assembly declared August 12 "International Youth Day" welcoming the mobilization of youth globally around a common issue and theme annually. This International Youth Day 2009, as the world continues to feel the impact of the economic crisis, youth respond by looking for solutions under the theme "Sustainability: Our Challenge. Our Future".
International Youth Day 2009 has been observed successfully organizing colorful rally, discussion meeting and blood donation program in Chittagong on 12 August. Department of Youth Development, Chittagong and the federation of youth organizations, Chittagong jointly organized these events in respect of the day with support from YPSA & other development organizations. Theme of this year of the day is "Sustainability: Our Challenge. Our Future".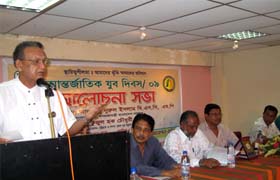 Mr. Nurul Islam BSC, Member of Parliament, Government of Bangladesh was present as the Chief Guest & Mr. Mahfuzul Haque Chowdhury presided the discussion meeting. Mr. Arifur Rahman, Chief Executive of YPSA, Mr. Samsul Huda Bhuyan, DD-Youth, Ctg. and Mr. Gias uddin, Councilor, Chittagong City Corporation were present as special guest. 25 development organizations participated in the program.