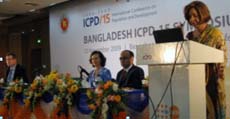 We the Bangladeshi people did a lot to control the Population with the jointly help of LNGOs, INGOs, UN Agencies and Government. Still we have so many things to do to empowering the women for controlling the population" said Dr. Nafis Sadik, Special Envoy of the UN Secretary General. She shared her thought and observation as Special Guest in Inaugural Programme of International Conference on Population and Development (ICPD/15) which was held in Bangabandhu International Conference Center on 10 November 2009. The programme was organized by UNFPA with a view to share the achievement of development and identifying the weakness in the field of Controlling Population. Mr. Barun Dev Mitra, Additional Secretary, Ministry of Health and Family Welfare was in Chair while, Ms. Renata Lok Dessallien, UN Resident Coordinator, Bangaldesh also spoke as a Special Guest in the Inaugural Session.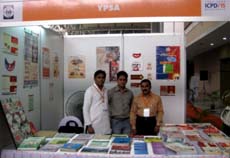 In the welcome speech, Mr. Arthur Erken, UNFPA Representative of Bangladesh thanked all stakeholders to implement the UN activities in Bangladesh. He shared that there are so many things to do considering the population control. Still the women are not empowered to making decision in rural area.
After the inaugural programme the Special Envoy of the UN Secretary General, Dr. Nafis Sadik inaugurated the day long fair on sharing the activities of Population Control of LNGOs and INGOs. The total of 13 LNGOs and INGOs including Young Power in Social Action (YPSA) actively participated in the Fair.
There were three discussion session highlighting the theme 'Reproductive Health', 'Gender Equality, Equity and Empowerment of Women' and 'Panel Discussion on ICPD/2015-The Way Forward'. All participants and the speaker shared their thought and ideas in the programme to achieve the MDG's. At the end of the programme there was a cultural programme for refreshing the participants. It was a great day and a get together of all NGOs activists, academician, government official, civil society leader and the youths. Mr. Narayan Chandra Das and Mr. Henry Hebol Roy represented YPSA and participated in the day long programme and the fair.