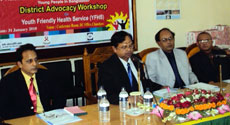 YPSA organized District Advocacy workshop on Youth Friendly Health Services (YFHS-GFATM902) at Chandpuron 31 January. Biswas Mohammed Azim uddin District Commissioner of Chandpur was present as the Chief Gues and Dr.Md. Shahnewaz Civil Surgeon of Chandpur chaired the workshop.

Md. Motiul Islam, ADC (General), Dipak Kanti Majuder,Deputy Director (FP), Md Amir Azam Khan, Deputy Director (Youth), Dr. A.K.M Shamsuddin, National Adviser, Youth Friendly Health Services (Ex- ADG,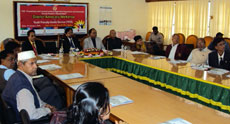 Health), Dr. Syeda Badrun Nahar, (Ex- ADG, Health), Dr. Mohib Ullah Khandaker-Coordinator of YFHS, Professor Ratan Kumer Majumder (General Secretary, Bangladesh paribesh Andolen-Chandpur), Professor Md. Hossain Khan,(President SUJAN, Chandpur), Professor Ashanuzzaman, Sri Jibon Kanai Chakrabarti, (President of CAB,Chandpur), Professor Umme Habiba, Health Education Officer, MOCS, RMO, Doctors, Journalist, Civil Society, Executive Director of CCDS, HEEDO ,Samaj Unnayan Procestha and Program Officer Md, Jasim Uddin were present at the workshop. This workshop conducted by Syed Assraf Ullah, Program Officer, YPSA-GFATM # 902.