Displacement Solutions (DS), is an International Rights Based Organization, works to empower displaced people and refugees to exercise their right to return and have restored to them their original homes, lands and properties. DS works together with and on behalf of people who have been displaced not only by conflict, forced eviction or other human rights abuses, but also natural disaster, climate change or other circumstances beyond their control. DS assists in finding alternative solutions such as compensation or resettlement if this is their wish. Recently DS is very much focusing to the issue of displaced people, who are forced to leave their  residence as climate change affect.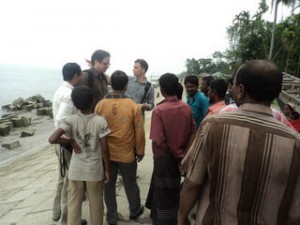 A team from this organization consisting two members Mr. Mr. Ezekiel Simperingham (as focal person of upcoming DS-YPSA project) from UK and Mr. Stephane Jeannet (as evaluator) from Switzerland have visited different place of Bangladesh that adversely affected by climate change as part of Bangladesh Housing, Land, and Property (HLP) Rights initiative . During their visit they talked victim of river erosion, coastal erosion, cyclone, and draught. They also talked to relevant Minister, government official, civil society representative and local govt. representative.They had several meeting with YPSA and other counterpart.Objective of this visit  is to discuss in greater detail the collaboration between DS and YPSA and to see the feasibility of upcoming projects in the field level.
Location visited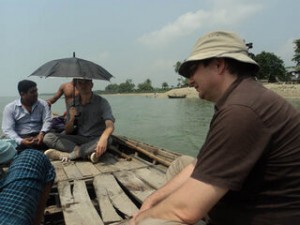 Chandpur Sadar Upazilla, Haimchar Upazilla, Comilla Sadar, Muhuri Project of Mirsarai, Sandip Kalapania Union, Sandip Sarikat union, Sitakund Upazilla, School of Chittagong City, Cox'sbazar City.
Government officials met with Dr. Hasan Mahmud, State Minister, Ministry of Environment and Forest, UNO of Chandpur Sadar, ADC & District Magistrate of Comilla, UNO of Sandwip sub district, UNO of Sitakund sub district, District Relief and Rehabilitation Officer of Coxesbazar.
People met with
Civil society & Local govt. representative; victim of river erosion, coastal erosion, cyclone and
draught; people living in affected area and people living in relocated area.
Details of the visit
Chandpur/ Haimchar Upazilla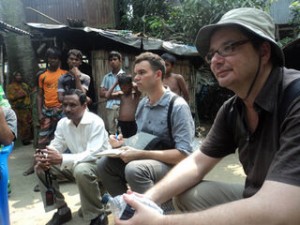 Displacement Solution team visited different union and Char area of Haimchar Upazilla, under Chandpur dirstrict on 16th April. Hiring an engine boat the team visited the area to observe impact of climate change. They also observed the education facilities and water and sanitation scenario. They visited the point of origin and point of destination of displaced people. During their visit they asked the victims about their livelihood, and their experience.
Chandpur Sadar sub district 
On 17th April the team visited two union of Candpur Sadar sub district. At Shakua Union they visited the areas that newly effected by
erosion of River Meghna and GUSSO GRAM. Then the team visited Bagadi Union to see the erosion of Dakatia River.
In both places they interviewed people affected by climate change on different aspect of climate change. They talked to local leaders, local government representative, student, house wives on education facilities, livelihood and water and sanitation system. One of the important aspects of the visit is to interview with UNO Ms. Shahinur Shahin where she briefed about present situation of erosion, situation of effected people, government plan and initiative, and also possibility of partnership with NGO.
Comilla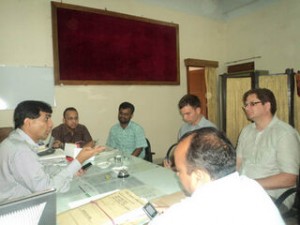 After completing at Chandpur the team started for Comilla on 17th April. On the way to Comilla DS team interviewed some people who were forced to displace from North Bengal region. At late after noon DS team had meeting with civil society member, local government representative at YPSA Comilla office. In the meeting they discussed about river erosion, role of NGOs etc.
Comilla DC office and Muhuri CDSP project
On 18 April DS team had meeting with ADC, Education & Development Mr. Dr. Harun Ur Rashid and Executive magistrate Md. Rejaur Rahman. They talked about river erosion, government initiative, khas land, involvement of civil society on the Climate Change issue. ADC of Comilla assured that DS would be given necessary support for taking any initiative on climate change as it is one of the prior issues to the government. After the meeting with government high official DS team started for visiting Muhuri CDSP project. There they talked with environmentally displaced people on their life and livelihood.
Sandwip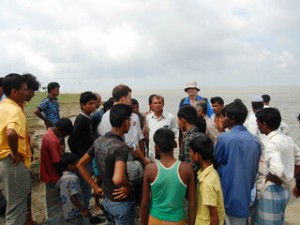 DS team started for Sandwip on 19th April. After lunch they met UNO Mr. Mir Shawkat Hossain and discussed about Government plan, initiative and collaboration with NGO. Then the team met with municipal mayor Mr. Zafar Ullah Titu. They asked the mayor about the initiative taken by the municipal council, support provided by government, situation of displaced people, demand of vulnerable people, what are the barrier of meeting the demand. Then they visited Sarikat Union where lots of displaced people live on embankment. There they found a big breach in embankment. People said the bank was breached few days ago by overflow water of high tide during an unusual storm. They said more than 100 houses washed away by that flood. Here they talked Md. Younus Mia, member of sarikat union parisad and wanted to know the local initiative, government support to face the disaster and changes as he is watching by climate. parisad and wanted to know the local initiative, government support to face the disaster and changes as he is watching by climate.
In the morning of 20th April DS team visited another erosion prone area Kalapania Union. There they talked to Dr. Mozammel Hossain, Mahbubul Karim civil society representative. From them the team wanted to know about their sufferings and suggestions. Here they also talked with Union Parishad member Haji Yousuf about climate change and other issues.
Sitakund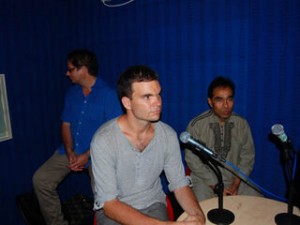 The team reached at Sitakund in the afternoon of 20th April. There they visited radio Sagor Giri and Mr. Ezekie has given an interview to the radio. Then they met Mr. Md. Alamgir Hossain, UNO of Sitakunda upzilla. They discussed about the obstacle to address the problem, government initiative and its effectiveness. After the meeting they interviewed some displaced people. Besides regular questions they asked them what kind of support they would prefer whether financial or technical.
Coxes Bazar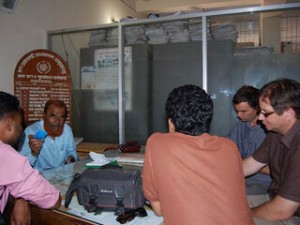 Mr. Ezekiel Simperingham, and Mr. Stephane Jeannet visited Cox'sBazar on 25th April 2012. During their visit they visited District Relief and Rehabilitation Office, YPSA ACT Office, and Kutubdia Para. Details of the visit are given below. Visit at District Relief and Rehabilitation Office: The team started their visit at Coxbazar having meeting with District Relief and Rehabilitation Officer Mr. Abdul Majid. During the meeting:-
Project undertaken by government for environmentally displaced people.
Process of the program/project.( How implement, who are involved, how the beneficiaries selected)
Limitation of the program
Seek suggestion from the officer.
YPSA ACT Program Visit: After successful meeting with DRR Officer, DS team went to YPSA ACT office. Here they met with four survivors and talked about their vocational training on driving.
Visit at Kutubdia Para: Finally the team visited Kutubdia Para a big village of environmentally displaced people who were attempted to evict few days ago. There they talked with victims and 1 no ward councilor of Cox'sbazar Municipal Corporation. Here they asked the interviewers about following matters:
When, why and how they displaced
How they are treated in new place.
Do they have any suggestion on rehabilitation?
 Meeting with State Minister of Environment and Forest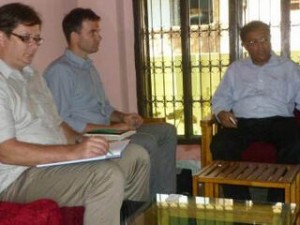 On 21st April DS team met with Dr. Hasan Mahmud Chowdhury, State Minister- Ministry of Environment and Forest at his residence in the morning time and very good meeting with him. DS mission was very pleased to meet with the minister as it helps them to understand the approach, plan, preparation, and capacity of government's policy making level. Dr. Hasan Mahmud Chowdhury welcomed the initiative of DS specially studies on Climate displacement issue.
 Meeting between YPSA and Displacement Solution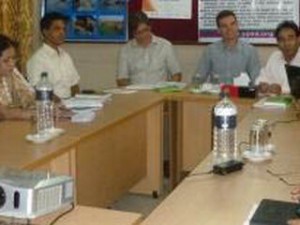 During their visit DS team had two meeting with YPSA official. The first meeting consisting of two parts held on 21st April at YPSA head office. In the 1st part of meeting senior staffs were present and given overall YPSA presentation including YPSA financial system. DS team shared purpose of their visit and about Displacement Solution as organization.
In 2nd part (after lunch) the team was concentrated the upcoming project activities particularly detail out of TOR, where selected senior personnel joined. In the discussion there were some new specific points found out, which need to be added with final TOR for the betterment of understanding of both parties Second meeting was held on 26th April in same venue. In the meeting the visitors shared their experience on field visit, meetings with different stakeholders and future plan of climate change issues.
Besides, the Mission had different meeting with the project personnel of Bangladesh HLP Rights Initiatives on the TOR, Letter of intent, Coastal Kids Project and also revision of visit schedule. As part of these meeting the mission had also phone conference with the lead researcher and discussed details on study component.
 Meeting with WCA School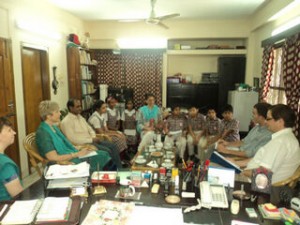 The team also met with the school authority on 26th April'12, where Coastal Kids Project supposed to be implemented. The team talked with Chancellor of WCA, teachers and also with Children of level 4th and 5th. Then they visit the computer lab of the school. The entire visit to school was very nice and effective.