United Nations Information Center (UNIC)-Dhaka and YPSA jointly successfully organised a seminar on Rio+ 20: Disaster Resilience on the occasion of Environment Day'12 today , on 4th June 2012 at Zilla Parishad, Chittagong.
Prof. Sekander Khan, President , Economic Society, Chittagong was the chief guest of the seminar while it was presided over by Prof. Dr. Al Amin, Dept. of Forestry, CU. The keynote paper was presented by Dr. Aminul Islam, Sr. Sustainable Development Adviser, UNDP Bangladesh and the Message of UN Secretary General was read out by Md Moniruzzaman, Knowledge Management Officer, UNIC Dhaka. Above all the Mr. Zafar Alam, Director, Department of Environment, Chittagong and Mr. Nurul Islam, Chairman, Nippon Academy, Chittagong were in the meeting as the Special Guests.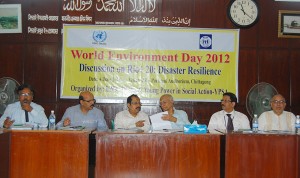 The speakers stressed on the Commitment to address the world's increasing vulnerability and exposure to disaster risk arises from a clear acknowledgment that the impact of climate change is resulting in more frequent, intense and geographically distributed hazards and that the world's increasing urbanization is concentrating economic and physical risk in densely populated cities. Mr. Md. Ali shahin, Program manager , YPSA was the moderator of the seminar and Ms. Khaleda Bgum, Program Coordinator, YPSA has given the welcome speech in the seminar.