YPSA celebrated its 28th Anniversary on 20th May 2013. The celebration Program started after observing a one minute silence in the memory of the YPSA's former advisor late A.K.M Mofizur Rahman. The program was inaugurated cutting an anniversary cake at YPSA Head Office, Chittagong. "It gives us an opportunity to celebrate the achievements of the past year with all of the people who have provided us with undivided support" said Mr. Md. Arifur Rahman, Chief executive, YPSA in the program.
Mr. Mahbubur Rahman, director social development, Mr. Polash Chodhury, Director Finance, Mr. Manzur Murshed Chowdhury, Director economic Development ,YPSA and other senior staffs of YPSA have delivered their speech in the program.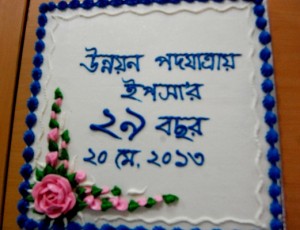 UN General Assembly on 3 rd November 1978, according to its resolution no. 33/7, declared the years 1981-90 as Youth Decade and 1985 as International Youth Year . Being inspired by sprit of International Youth Year some socially conscious youths of Sitakund Upazilla under Chittagong District of Bangladesh began to motivate and organize the youth community to establish a development organization. In this way on 20 th May 1985 by active initiation of the socially conscious youth, a social development organization called YPSA (Young P ower in Social A ction) began its course of participation in the development process.
YPSA closely related with different UN organizations like UNDPI , UNFCCC, UNDP , WHO, ILO and member of INFOYOUTH Network of UNESCO. YPSA regularly receives technical and financial supports from different International and National organizations and Networks to implement community need based programs which are mainly focused on health , education , Human rights , Disaster risk reduction and emergency management , ICT4D etc. YPSA has strong networking with like-minded National and International organizations/ forums/networks. At present YPSA's development programs are being directly implemented in the entire hill tracts areas, remote coastal and urban areas of greater Chittagong with a total no. of 5 million populations (estimated) and for advocacy and networking throughout the country of Bangladesh and abroad.