"It is possible to make smoke-free area of local government through creating social awareness participating by all walks of people united" speakers said in a two-day workshop on "Implementation of Smoke-free Guideline and Tobacco Control Act" organized by YPSA supported by Campaign for Tobacco Free Kids.
Smoke free coalition member from 7 districts of Chittagong division including Cox'sbazar, Chittagong, Bandarban, Rangamati, Khagrachari, Feni and Noakhali attended the workshop. The smoke free coalition comprised with councilors, representatives from government and non-government organizations, civil society, laborer, businessman, young people and religious leaders.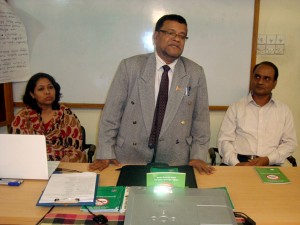 Dr. Md. Alauddin Mazumdar, Director of Department of Health was present as the chief guest in the workshop. He handover certificates to the participants.
The workshop took place at YPSA HRDC Campus Chittagong during 14-15 February 2014.
The Smoking and Tobacco Products Usage (Control) (Amendment) Act, 2013, is the principal law governing tobacco control in Bangladesh.  The Act is comprehensive and covers smoke free policies; tobacco advertising, promotion and sponsorship; and packaging and labeling of tobacco products, among other areas.