Child Marriage and Dowry System is a common social problem in Bangladesh also in Sitakunda Upazilla, especially at fisherman villages. UNICEF report said 66 percent of girls get married before the age of 18.  Early marriage can cause severe problems like; Psychological and emotional stress, health problems, Mental and emotional stress etc. Also the problem of dowry has become a serious social evil among the upper castes and middle classes both in towns and villages.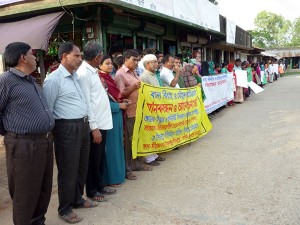 For preventing of Child Marriage and Dowry System, with more than 100 LDP Youth and Community Leaders of LDP, Local People, Civil Society and Media People joined hands to prevent Child Marriage and Dowry System by forming a human chain at Mirerhat Bazar along Syedpur Union Parishad.
This step was taken by Youth and Community Leaders Forum, Syedpur Union, Sitakunda along with local people with the help of Syedpur Union Parishad

This campaign was a great success with almost 200 people participating in it. In of them 40 are female participants and five are disable. We stood there from 4.00 pm to 5.00 pm by forming a human chain.  LDP leaders were presence there and showing various banner and placards on bad effect of Child Marriage and Dowry system.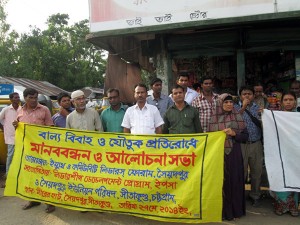 Here, our leaders raise voice and awareness for preventing of Child Marriage and say against of Dowry System. Finally leaders seek a strong role of Union Parishad, Civil Society and Administration in this regard.
After that, a general discussion was held which was chaired by Chairman, Syedpur Union Parishad. Representative of local civil society, YPSA-LDP Project Coordinators (Md. Abdus Sabur), Program Officers (Janntul Frdous, Gowri Bala), Youth and Community Leaders and other NGO officials was participant there. This discussion was coordinated by Jesmin Akter, Program Officer, YPSA-Leadership Development Program (LDP).

Chairman, Syedpur Union, Sitakund urged that everyone have to commitment against Child Marriage and Dowry System specially drawn attention to Youth Leaders and Community Leaders and assure Union Parishad will be always beside this type of activity.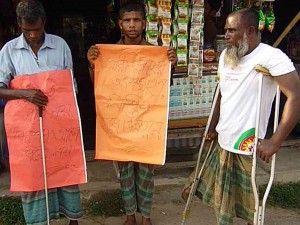 The guardians are also forced to marry off their immature daughters when they get teased-stalked by local spoilt youths. The health conditions deteriorate when an underage mother becomes pregnant due to early marriage. She has to lead a repressive life, as she does not have mental maturity to shoulder the responsibility of a family. These girl children sometimes return to their fathers' houses after being divorced and their children fall into a helpless situation. Early marriage is a barrier to the next generation to be groomed as worthy citizens and in a healthy way.  Though as per the existing law, obeying associated issues including attaining marriage age (21 years for men and 18 years for women) is considered as legal marriage. The early marriage is anti-constitutional as it is contrary to social justice and fundamental rights of the people.