Palli Karma Sahayak Foundation (PKSF) on May 11, 2014 began a yearlong celebration to mark its 25th founding anniversary next year with a promise to diversify operations to lift millions out of poverty. To mark its 24th founding anniversary, the state-run agency driving microfinance movement in the country organized an event at Bangabandhu International Conference Centre in the capital with participants from across the country. PKSF will organize various events until May 10 next year to mark its Silver Jubilee.
From the YPSA, a total of 30 teachers, 10 paramedics and 5 other project staffs participated in the program along with Md. Arifur Rahman, Chief Executive and Manjur Murshed Chowdhury, Director (ED), YPSA.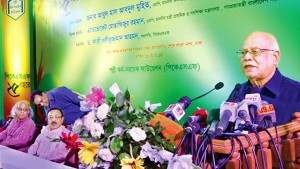 "Micro-credit doesn't mean poverty alleviation. If education and health services are not available, micro- credit could not reduce poverty. Micro-credit is a potential tool, which is undoubtedly playing a significant role in alleviating poverty" The finance minister came up with the observation while addressing the silver jubilee celebration of Palli Karma-Sahayak Foundation (PKSF) .
Primary and Mass Education Minister Advocate Mostafizur Rahman and PKSF Managing Director M Abdul Karim also spoke at the function presided over by Chairman of PKSF board of directors Dr Qazi Kholiquzzaman Ahmad.
Speaking on the occasion as special guest, Mostafizur Rahman said the government is implementing a number of initiatives for the expansion of primary education, which has ensured the cent per cent rate of primary education.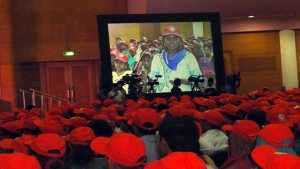 "Micro-credit has made significant contribution to achieving the success in primary education. Besides, many micro-credit disbursement organisations are implementing education and health projects, and PKSF is providing assistances for them," he added.
Qazi Kholiquzzaman said PKSF is contributing specially to the development of education and health services alongside expanding micro-credit in the country.
PKSF was established in 1990 as a 'not-for-profit' company with the objective to give funds to various organizations for their micro-credit program to help the poor who have no land or any credible material possession.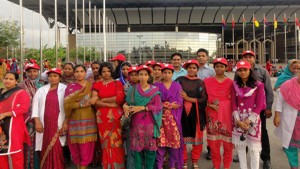 PKSF started with only 23 partner organisations and 1,012 entrepreneurs. It has now 272 associate organizations, serving 80 lakh entrepreneurs across the country.
PKSF's partner organizations have 1.05 crore members. The total capital of PKSF stood at Tk 3,321 crore as of March 2014, according to the foundation. PKSF does not lend to individuals directly, rather, it lends to microfinance partner organizations at subsidized rates to help them lend among the borrowers.