YPSA took part in a three-day Teacher's Conference 2014 hosted by Access to Information (a2i) Programme, under the Prime Minister's Office in partnership with the British Council at Cox'sbazar cultural centre during 5-7 May. An education fair was organized in which local teachers and other development partners showcased with their multimedia contents. YPSA has showcased different DAISY Multimedia Contents which is a remarkable initiative to ensure education for people with disability.
All the teachers, students, parents, education practitioners and other stakeholders visited YPSA stall. Specially, Honorable Minister for the Ministry of Primary and Mass Education and Minister for Ministry of Education watched the presentation of the DAISY books and appreciated the initiative.
Out of 30,000 teachers, 42 were awarded for preparing the best digital content for the multimedia classrooms. Education Minister Nurul Islam Nahid, as the chief guest, handed over crest and certificate to each of the teacher in the award giving ceremony.
The objective of the conference was to promote and inspire the teachers to prepare digital content to be used in Multimedia classroom. Hundreds of teachers, teacher trainers, administrators and students along with the best teachers selected by Teachers Portal and multimedia content competition participated in the conference. This conference held three different seminars on 'Effective teaching-learning process: Local and Global perspective'; 'Teachers professional development' and '21st century teachers: skills and challenges' where teachers presented the papers and joined as panelists. Apart from the conference a two-day long education fair showcased by local teachers and other development partners with their multimedia contents.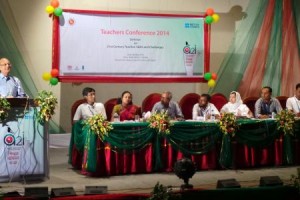 Using ICT for Education, Multimedia Classroom, Teacher Led Digital Content Development and Teachers Portal are the significant innovations of a2i programme. Ministry of Education and Ministry of Primary and Mass Education had so far introduced 28 thousand multimedia classrooms at primary secondary level school across the country. A2i had trained 30 thousand teachers on developing digital content for multimedia classroom. Trained teachers put their contents in teacher's portal. Based on the pedagogy, user rating, number of downloads of content.
Three best teachers are being selected automatically every week. Total 42 teachers awarded at the conference. Out of 42 teachers 22 were selected by portal and another 20 best content developer teacher who came through a competition since 2011.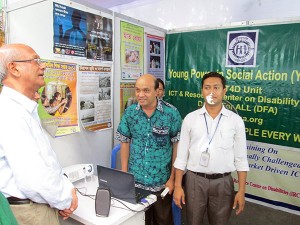 The program was inaugurated by the chief guest Advocate Mostafizur Rahman, Honorable Minister, Ministry of Primary and Mass Education (MoPME). Nazrul Islam Khan, Secretary of ICT division and NPD of a2i program was present as the special guest. In the award night, Nurul Islam Nahid MP, Honorable Minister of Ministry of Education, Kabir Bin Anwar and Project Director of a2i Programme were present. Acting Country Director Brendan McSharry was present both at inaugural and award night.
Teachers, students, member of civil society, media personnel, and government officials were present along with others.