As the first initiative in Bangladesh, a divisional Consultation on "Implementation on Tobacco control Law in Chittagong Division" held on 24th September 2014 in the auditorium hall of Chittagong Circuit House. The consultation was organized by Chittagong Divisional Commissioner Office, Jointly initiated by YPSA and EC Bangladesh and supported by Campaign for Tobacco Free Kids. The Consultation was presided over by Mr. Mesbah Uddin, Deputy Commissioner (DC) of Chittagong district while Mr. Muhammad Abdullah, Divisional Commissioner of Chittagong division was the chief guest.
The meeting was participated in by 11 Deputy Commissioner (DC) of eleven districts of Chittagong division, Additional Divisional Commissioners, Director-health, Deputy Director of local government and other government officials. This is the first time in Bangladesh where all the DCs have come together to talk about the implementation of the TC law. The meetings was also participated by several other representatives from SF coalition, Chittagong City Corporation, transport associations, restaurant owners associations, market associations, education institutions, NGOs, health officer of civil surgeon office, electronic and print media etc.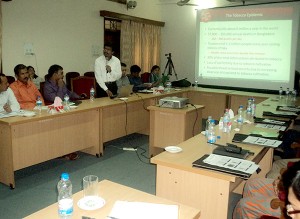 The keynote paper was presented by Mr. Taifur Rahman, Director, Bangladesh Program, CTFK and moderated by Mr. Md. Arifur Rahman, Chief Executive, YPSA. The welcome speech was delivered by Mr. Arif Sikder, Executive Director, EC- Bangladesh while Mr. Shariful Alam, Deputy Secretary, Bangladesh Government has spoke as an expert speaker on tobacco control issue.
The chief guest, Mr. Mohammad Abdullah, Divisional Commissioner of Chittagong division, provided some directions to all DCs for implementing the Tobacco Control law in his speech. He said to conduct mobile court and taskforce meetings regularly in all districts of Chittagong division to enforce the Tobacco Control Law, to provide district report on TC law implementation status. He also said that Divisional Commissioner office will take initiative to arrange capacity development training with magistrate, district health officer and local government of 11 districts for strengthening the implementation of Tobacco control law which will be held on November 2014. He also said that a coordinated effort is needed from all the DCs of the division to ensure a smoke free environment in Chittagong.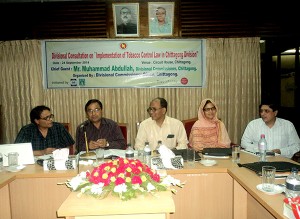 There are more other valuable guests including the DCs were addressing in the meeting. The guest were Md. Alef Uddin, Additional Divisional Commissioner, Ms. Sarwar Jahan, Additional Divisional Commissioner, Mr. K.M Tarikul Islam, DC of Bandarban district, Mr. Md. Masud Karim, DC of Khagrachori district, Dr. Md. Mosharraf Hossain, DC of Brammanbaria, Mr. Md. Ruhul Amin, DC of Cox's Bazar and Mr. Md. Alauddin Majumder, Director of Health, Chittagong division.