3rd round of Service Innovation Fund (SIF) of Access to Information (a2i) Program under Prime Minister's Office of the Bangladesh Government awarded to YPSA for 'Production of accessible reading materials for the students with print disability of class VI-class-X through DAISY standard'. Mr. Md. Arifur Rahman, Chief Executive and Mr. Vashkar Bhattacharjee, Program Manager of YPSA received the award in a ceremony held at Bangabandhu International Conference Center, Dhaka on 12 February 2015.
In the award ceremony, honorable adviser of the Prime Minister Prof. Dr. Gowher Rizvi was present as the chief guest. The event was attended by the Chief Innovation Officers (CIO) of different ministries, Innovation Officers (IO) of different directorates and District offices, development partners, NGOs, Journalists, Donor Organization and Private sector. Prof. Dr. Gowher Rizvi has handed over the cheque of awarded sum to the winners as the chief guest of the ceremony.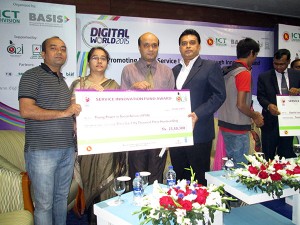 The Service Innovation Fund (SIF) was launched with an aim to create easier process of accessing and availing public service and to promote innovation within public & private institution and individuals in order to increase quality of government services. Another objective of SIF was to start up a number of prevailing small and medium initiatives on its merit of practical innovation in service. It is notable that Access to Information Programme (a2i) identifies innovation and helps executing those e-services that have reduced time, cost and hassle of the service seeker than before and increased the quality of services in different levels.  This fund has been formed by the joint collaboration of UNDP, USAID and Bangladesh Government and is being managed by the a2i, a project of Prime Minister's Office in Bangladesh.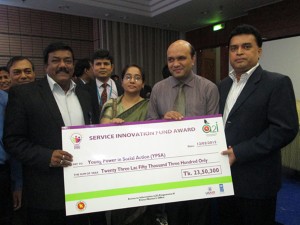 YPSA established the Information, Communication and Technology Resource Centre on Disabilities (IRCD) in 2005. The mission of the Centre is to ensure the best use of Information Communication Technology (ICT) for people with a disability, promoting their abilities. YPSA IRCD has practical experience in harnessing technologies to enable visually impaired people.
Information Communication Technology (ICT) opens many doors for people with a disability and people of low literacy. The Centre offers digital technologies for the visually impaired, other people with disabilities, people of low literacy and Indigenous communities with no script; this makes information and knowledge accessible for them and in turn enhances their technical skills.