YPSA has organized a sharing meeting on "Implementation of Tobacco Control Law and the Role of Local Government" on 8th April' 15 at the conference room of DPHE, Dhaka with the support of Campaign for Tobacco Free Kids (CTFK). Mr. Ashoke Madhab Roy, Additional Secretary, Urban Development Wing, Local Government Division of Ministry of Local Government, Rural Development and Cooperatives (MOLGRD&C) was present as chief guest. Mr. Porimal Kumar Dev, Joint Secretary, MOLGRD&C, Dr. Sayed Mahfuzul Huq, National Consultant of WHO, Mr. Shariful Alam, Deputy Secretary and Consultant of TFK attended as special guest in the meeting.
Mr. Taifur Rahman, Country Director of CTFK moderated the meeting. The objective of the meeting was to advocate for institutionalization of the smoke free initiatives of local government through generating a circular by the MOLGRD&C to all local governments for adoption of smoke free guideline as a policy. The chief guest gave his commitment that he would circular a notice to all local governments in Bangladesh to take smoke free initiatives.
At the beginning of the meeting Ms. Nasim Banu Shyamali, Team Leader, smoke free project of YPSA presented a power point presentation on the implementation of Tobacco control law and the initiatives of local government. Mr. Sarwar Kamal, Mayor of Cox's Bazar Municipality has shared the experiences on their smoke free initiatives. Mr. Nazmul Haider, Program Officer of Smoke free project of YPSA gave welcome speech on behalf of YPSA.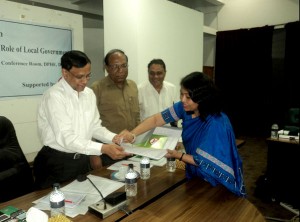 YPSA has handed over a memorandum to chief guest to circulate notice to all local governments for adopting smoke free guideline.
In the open discussion session participants have provided their opinions to make all the local governments smoke free. All the participants demanded that as smoke free guideline is one of the major tools to make all local government smoke free, local government division should take initiative to replicate this across the country. BI partners, BI grantees, media, mayor from Chittagong division and other government official also participated in the meeting.