YPSA and Chittagong Civil Surgeon Office jointly organized a procession started from the Press club, Chittagong and a discussion session at Civil Surgeon Office Auditorium on the occasion of World Health Day 2015. Dr. Sharfaraz Khan Chowdhury Civil Surgeon of Chittagong presided over the meeting. Over 300 representatives from governmental organizations, NGOs, Civil society and target population individuals attended the rally. 
Honorable MP Ms. Wasika Ayesha Khan was the chief guest. Among other Dr. Alauddin Majumdar, Director of Health Chittagong , Dr. Md. Q.M Ohidul Alam from TIB and Ms. Khaleda Begum from YPSA were the special guests in the program.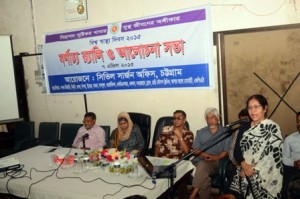 Dr.Md. Nurul Hayder medical officer (Disease control) General Hospital Ctg. was the key note presenter of the discussion meeting.. Kazi Iqbal Bahar Sabery General Secretary CAB Ctg. spoke over the Food safety law: 2013. Deputy civil surgeon Dr. Rafique uddin welcomed all with his speech. Among other Ms. Anjuman Banu Lima,Deputy program director of Ghashful Mr,Shubroto Chowdhury, Family Planning Officer spoke in the meeting.  Theme of this year was "Safe Food: Healthy Lives".