Memorandum of Understanding (MOU) established between YPSA and Global Health Institute (GHI) of North South University (NSU) at the Dean Office of the School of Health and Life Sciences, NSU, Bashundhara, Dhaka on 3rd January 2016.  This official MOU has been signed by Md. Arifur Rahman, Chief Executive of YPSA and Prof. Dr. G.U. Ahsan, Dean, School of Health and Life Sciences and Chairman, Department of Public Health, North South University.
YPSA as nonprofit social development organization will collaborate with the NSU GHI in order to accomplish research works, develop demonstration sites, implement pilot projects, capacity development, exchange of learning and experiences, advocacy on Health, Population, Nutrition, Environment, Climate Change and different development issues in greater Chittagong Division of Bangladesh.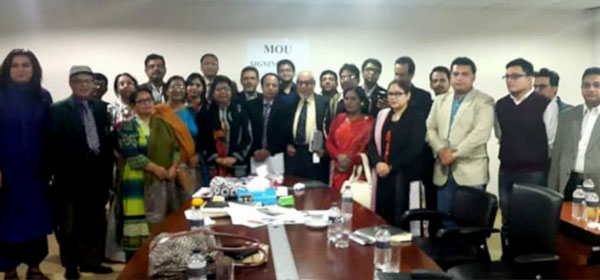 Prof. Dr. Hasan Mahmud Reza, Professor and Chairman, Dept. of Pharmaceutical Sciences, Dr. Md. Jakariya, Associate Professor and Chairman, Dept. of Environmental Sciences, Dr. Jinath Sultana Jime, Assistant Professor and Chairman, Dept. of Biology and Chemistry and many other faculty members from North South University and Md. Harun Or Rashid, Chief Executive of Light House and Chief of the other NGO partners were present at this historical event.