A sharing meeting on "Implementation of Tobacco Control Law in Chittagong Division" held on 20th September 2016 at the auditorium hall of Chittagong Circuit House. The meeting was organized by Chittagong Divisional Commissioner Office, initiated by YPSA and supported by Campaign for Tobacco Free Kids. Divisional Commissioner (Acting) of Chittagong division Mr. Shankar Ranjan Shaha was present as chief guest while Ms. Roxana Quader, Additional Secretary (WHO and Public Health), Ministry of Health and Family Welfare and Mr. Mostafizur Rahman, Additional Secretary, Cabinet Division were present as honorable guests in the meeting. Mr. Shariful Alam, Lead consultant of CTFK moderated the open discussion in the meeting.
11 Deputy Commissioners (DC) of eleven districts of Chittagong division, Additional Divisional Commissioners, Officials of local government (Zilla Parisad), magistrates, other government officials and Anti Tobacco Media Alliance (ATMA)  members participated in the meeting. Ms. Nasim Banu Shyamali, Team Leader, Smoke Free project, YPSA has presented the scenario of the violation of Tobacco Control Law and some measures for effective implementation of tobacco control law.
The honorable guest Mr. Mostafizur Rahman, Additional Secretary shared the enforcement guideline and also provided some directions to enforce the TC law at the district and divisional level.  Ms. Roksana Kader, Additional Secretary also provided some directions to all DCs and also said that everybody should play their responsibility from their own positions. The chief guest said that they would take necessary actions to enforce the tobacco control law in Chittagong division.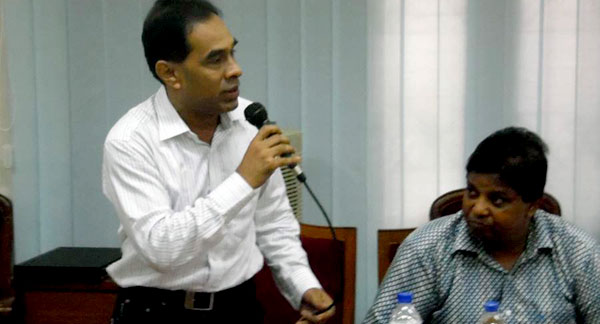 Mr. Mahabubur Rahman, Director (Social Development), YPSA delivered the welcome speech at the beginning of the meeting.
Mr. Amin Ul Ahsan, DC of Feni district, Mr. Zillur Rahman Chowdhury, DC of Laksmhipur, Mr. Badre Munir Ferdouse, DC of Noakhali, Mr. Md Ali Hossain, DC of Cox's Bazar, Md. Habibur Rahman, Chief Executive of Khagrachari Zilla Parishad and Md. Ataur Rahman, Zonal Officer, Noakhali addressed the meeting. All the speakers focused on the implementation on tobacco control law, control the tobacco cultivation & production, conduct huge mobile court at institutional level, mobilize authorized officers and arrange campaign for raising public awareness.