YPSA-Community Legal Services for Access to Justice Project is working for building the capacity of justice service providers and ensuring the fair and equitable legal services for poor and marginalized through CLS centers in Collaboration with GO and NGO's. To support the activity YPSA-CLS organized a sharing meeting  in association with  the District Legal Aid Committee (DLAC), Chittagong on 23 October, 2016  at District Judge Court Bhaban. This meeting was chaired by Mr. Siraj Ullah Kutubi, Chairman of District Legal Aid Committee, Chittagong.
This meeting was moderated by by Mrs. Farhana Yeasmin, District Legal Aid Officer, Chittagong. A total of 35 Judicial Officials, government official, public representative, social workers, NGO representatives and CLS Partners including journalists participated in the meeting  and contributed. For the project, Program Coordinator- Md. Abdus Sabur; Program Officer Jasim Uddin, Frazana Ferdous were present and contributed.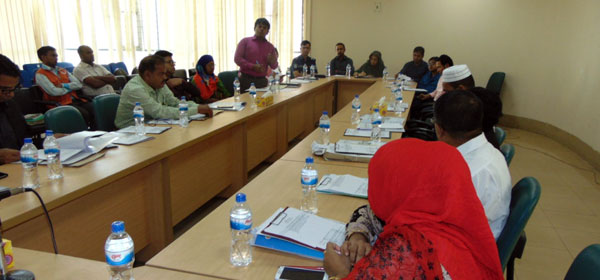 Program Coordinator Md. Abdus Sabur of YPSA-CLS presents a presentation on program intervention and milestones. He shared more  than  70,000  people  received legal services in free of cost of  06 Upazilas under two districts (Chittagong and Cox's Bazar) in Chittagong division  during last three years. With these initiatives, community become aware about their legal rights that helping them establish their confidence  on how to get the legal services whenever and  wherever they need.
Project intervention also contributed to activating the function of the village court through case referral by CLS center lawyers. While significant parts of those case backlogs are easily resolved through the local level justice system. He described YPSA CLS center lawyer now providing legal advice and information on door steps and contributing to improve access to justice and ensure human rights in hard to reach areas.
In concluding, Mr. Siraj Ullah Kutubi, Chairman of District Legal Aid Committe, Chittagong said only the judiciary or any single organization cannot ensure legal aid to the underprivileged people  of the  country and called for closer coordination between GO and NGO's.