Women face aggression, domestic violence and gender discrimination in Bangladesh including south Asia only for being woman or they were born with a gender identity as female. Poor or rich, literate or illiterate, urban or rural, child or elderly whatever their extent they face gender-based discrimination.
Women's empowerment is fundamental to strengthening women's rights and enabling women to have control over their lives to create equitable societies. Women's economic empowerment gives both economic and social benefits for entire populations. Attitude towards women should be changed in order to eliminate inequalities between men and women. Steps should be taken for promoting the fulfillment of women's potential through skill development and employment.
Speaker expressed their opinions in a sewing machine distribution ceremony held at YPSA HRDC Sitakund campus on 9 October, 2016.
YPSA has distributed sewing machines to 32 women micro-entrepreneurs under the project "Empowering women through skill development" supported by Bangladesh NGO Foundation (BNF).
Upazila Nirbahi Officer Nazmul Islam Bhuiyan was present as chief guest and Upazila Women Affairs Officer Nazmun Nahar was present as special guest in the distribution program.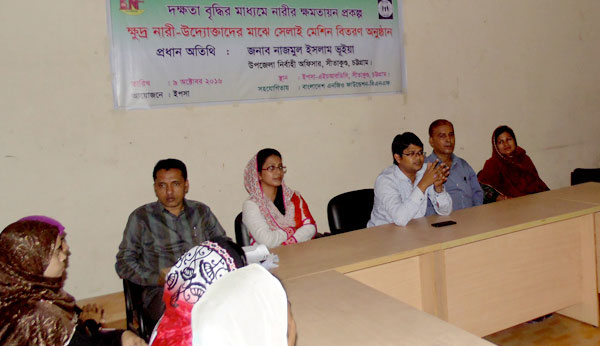 Mohammad Shahidul Islam, program manager of YPSA moderated and Shah Sultan Shamim, Station Manager of Radio Sagor Giri 99.2 presided over the meeting.