As a part of institutionalization of the tobacco control initiatives, Chittagong City Corporation has been allocating budget for implementing tobacco control program since fiscal year 2014-2015. In the current fiscal year 2016-2017 the allocated budget is 2 crores taka. For ensuring the proper utilization of this budget YPSA and ATMA, Chittagong region jointly arranged a sharing meeting on "Utilization of allocated budget for Tobacco control by Chittagong City Corporation" on 26th April 2017 at K.B.Abdus Sattar auditorium, Chittagong City Corporation with the support of Campaign for Tobacco free Kids.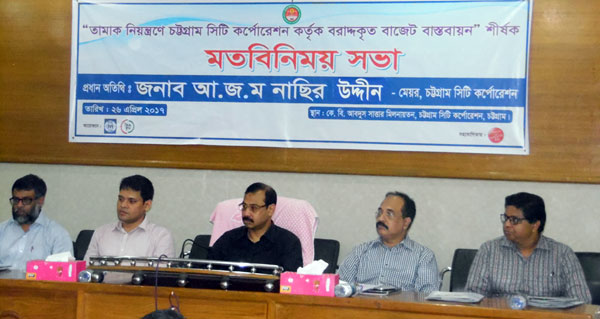 In the meeting Mr. A.Z.M Nasir Uddin, Mayor of Chittagong City Corporation was present as chief guest. He said that he will work for Tobacco Free City Corporation and all the councilors of City Corporation will work with him. He also emphasised that awareness and enforcement of law both are very important for ensuring tobacco free City.
He assigned a focal person for implementing the tobacco control program in City Corporation and also advised her to develop an action plan for next two months for implementing the tobacco control program based on the proposed plan of YPSA.
He also commits that for implementing the goal set by Prime Minister of Bangladesh, he will do anything for Tobacco free City Corporation before 2040 and it will be a model for all. At the beginning of the meeting, Mayor signed on the board of "Our commitments for Tobacco free Chittagong City Corporation."
For the contribution on tobacco control and be a non-smoker personality, CTFK, YPSA and ATMA jointly handed over a crest to the Mayor. Beside YPSA also handed over a proposed plan for utilizing budget to him.
In the meeting Mr. Abul Hossain, Chief Executive Officer (Acting) of Chittagong City Corporation, Dr. Mahafuzur Bhuiyan, Grant Manager of CTFK Bangladesh, Mr. Sharf Uddin Mahmud Chowdhury, Chief Executive Officer of Savar Municipality, Ms. Anjuman Ara, Councilor of CCC, Dr. Humayun Kabir, Deputy Civil Surgeon of Chittagong district and Mr. Arifur Rahman, Chief executive of YPSA were present as guests. Mr. Palash Chowdhury, Director (Finance) of YPSA and Mr. Alamgir Sabuj, Convener of ATMA Chittagong delivered the welcome speech.
Councilors & Officials of Chittagong City corporation, teachers, doctors, representatives from business community, transport association, market association, journalists, NGO, Smoke Free Coalition, smoke free youth group (Projonmo), ATMA members and CTFK also participated in the meeting. Ms. Nasim Banu, Team Leader, Smoke Free project, YPSA has presented the proposed plan for utilizing the budget for implementing tobacco control activities.