A three-day Life Skills Training workshop organized by YPSA and HOPE'87 Bangladesh at YES CENTER, Ramu, Cox's Bazar with the support of ESPRIT and YOU foundation from the 12th to 14th of September, 2017. A total of 31 male and female youths (7 male and 24 female) received the training. The objective of the training was to develop abilities of the participants for adaptive and positive behavior that enable individuals to deal effectively with the demands and challenges of everyday life.
It has 11 core elements that represent the psycho-social skills that determine valued behavior and include reflective skills such as problem-solving, decision making, self dignity, creative thinking, critical thinking, communication skill, self-awareness, interpersonal skills, self confidence, stress control and control of emotion. Training was structured in a participatory way so that participants gained self-confidence and encouraged to think critically about issues affecting their own communities and how they can become agents of change.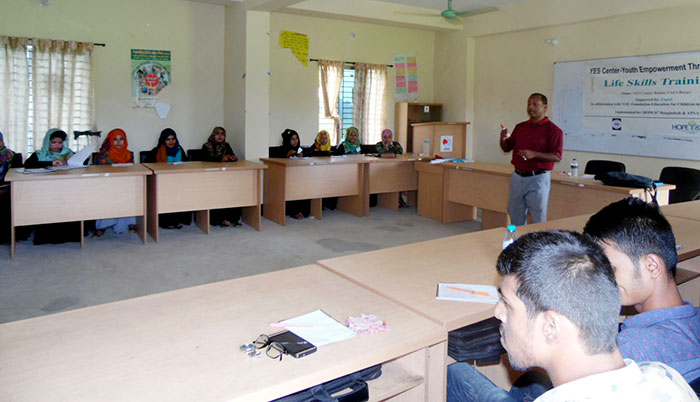 Mr. A.K.M. Monirul Hoque, Project Coordinator of YES project, YPSA has conducted the training workshop. At the end of the training Mr. Ranjit Das, Superintendent of Textile Vocational Institute, Cox's Bazar was present as guest.