YPSA built 137 houses in Banskhali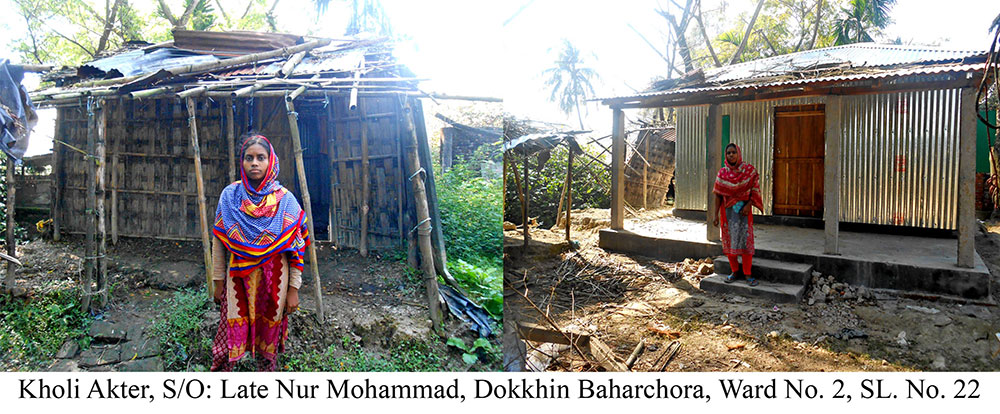 There is some, at least, damage to every natural disaster when it takes place in the Banskhali Upazila of South Chittagong since the Chittagong district is a disaster-prone area which is located at the south-east region of Bangladesh and one side adjacent to the Bay of Bengal.
8 Unions out of 15 Unions in this Upazila are seafront. The coastal people here are affected by every natural disaster.
Homeless people affected by the earlier cyclone Aila, Roanu and lastly Mora were struggling as well as dreaming of a better life. One of the largest NGO in Chittagong, YPSA (Young Power in Social Action) has been working to let their dream come true. Dream of new house.
With the help of YPSA, 137 families who were affected by the cyclone Mora in the Baharchara area on the coast of Banshkhali have got new houses.
The only accommodations where they lived in were damaged after being hit by the storm. After getting the new houses, now they are dreaming of a new way. They have got hope.
One such person is Koli Akhter, who did not even see her father after her birth. She has been living with her mother in extreme poverty, enduring hideous suffering,  she becomes 18 years old.
Koli is the daughter of late Nur Mohammad and mentally challenged Kashefa Begum of Ratnapur village of Baharchara union of Banshkhali. Koli's father died before Koli was born. She has grown up with her mother facing many distress and tragedies.
Koli's mother had strong desire to educate her daughter in spite of her poverty. Due to pecuniary distress, it was not possible to continue studying after the third grade.
On one hand, fatherless woman, while on the other hand, the pain of losing husband and getting into poverty, Koli's mother Kashifa Begum eventually became mentally sick.
In the meantime, the cyclone Mora destroyed the only resort they had. But mentally sick Kashifa Begum does not want to go out of this ancestral home. And their lives go through misery.
Meanwhile, an organization for sustainable development YPSA in collaboration with Habitat for Humanity International Bangladesh started Cyclone post-Mora housing construction work in Bahharchara union of Banshkhali.
Under this project, a new house is provided to Koli. A piece of black cloud moved over her head.
132 affected houses were identified by a survey jointly conducted by YPSA, the Upazila administration and Union Parishad.
In this regard, UP Member Emranul Haq Sultan said that the work that YPSA has done for disaster-prone people needs praise.
Baharchhara Union chairman Prof Tajul Islam said, "YPSA built a new house for three helpless sisters under special consideration. Besides, houses are being constructed for 137 families. Those organizations that have contributed in the development in my area will remain immortal in the mind of the people entire life."
Banshkhali Upazila Nirbahi Officer Amena Akhter said after visiting the project, YPSA is building houses for 137 affected families following all the policies, which are worth mentioning.
John Armstrong, National Director of Habitat for Humanity Bangladesh; Le Cao Minh; Adesh Tripathie and YPSA's chief executive Md. Arifur Rahman and other responsible officials visited the housing construction work at Bahharchara union of Banskhali.
Media Coverage