"The honorable Prime Minister of Bangladesh has earned a reputation as a symbol of world humanity by temporarily providing asylum to the hundreds of thousands of displaced Myanmar nationals who were victims of humanitarian crisis. The world knows Bangladesh as a humanistic country and they are respecting Bangladeshi people for humanitarian assistance. The government of Bangladesh has been working for the proper repatriation of displaced Myanmar citizen who have taken shelter in Teknaf and Ukhia Upazilas of Cox's Bazar district. The government has been providing various support to all humanitarian activities in various ways. In addition to the government, the non-government development organizations or NGOs play an important role in the Rohingya humanitarian assistance program."
Refugee Relief and Rehabilitation Commissioner and Additional Secretary of the Government of the People's Republic of Bangladesh, Mr. Mohammad Abul Kalam NDC made the above statement while visiting the Rohingya Crisis Response Program on 10 September, 2018, which is being implemented by YPSA.
YPSA has been implementing the Rohingya Crisis Response program since August 25, 2017. With the support of UN agencies, especially World Food Programme (WFP), UNICEF, IOM, UN Women, UNFPA as well as various international development agencies – ActionAid, HelpAge International, Concern Worldwide, Save the Children and Oxfam, YPSA has been implementing various developmental and humanitarian programs for the welfare of forcefully displaced Myanmar citizens.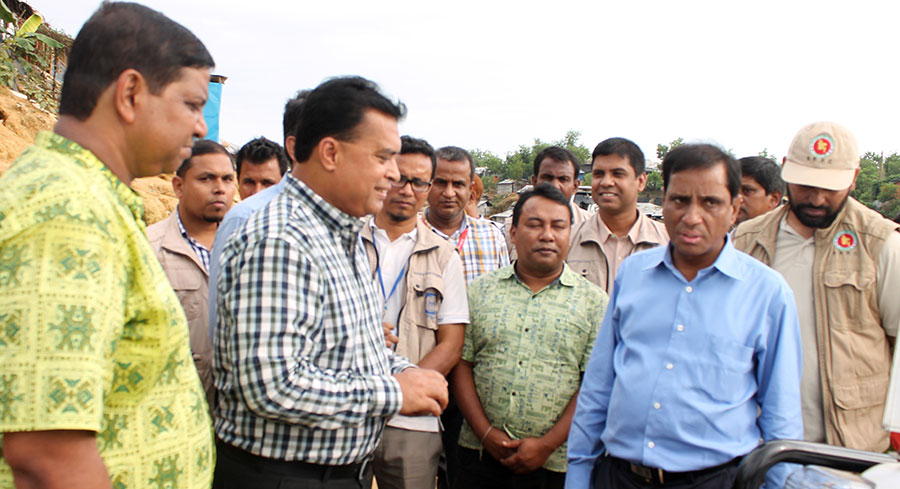 YPSA has been providing food support among 47,000 Rohingya families in collaboration with WFP and Save the Children. With the support of ActionAid and UN Women, YPSA established two Women Friendly Spaces and Multipurpose Women Centers which are providing sewing training to women, providing environment-friendly fuel material, setting up streetlights, deep tube wells, bath rooms and latrines for women etc. With the support of HelpAge International, YPSA established Age Friendly Space which aims health service, distribution of elderly friendly equipments, recreation of elderly etc.
An Adolescent Friendly Space was established in collaboration with UNICEF for the promotion of mental health and psychological wellbeing of children and adolescents.
One hundred Child's Play Corners for the children and their education and sports have been established in collaboration with Save the Children.
In collaboration with Concern Worldwide, Dignity Kit distribution and financial assistance to the affected families in local area, in collaboration with Oxfam alternative livelihood activities for the local people, in collaboration with CARE prevention of gender discrimination of Rohingya women, in collaboration with IOM Preventing Human Trafficking program have implementing by YPSA.
Refugee relief and Rehabilitation Commissioner Abul Kalam eagerly appreciates the presentation of the activities of YPSA.  He requested for the implementation of all humanitarian activities , including senior affairs activities or Age Friendly Space of YPSA, in all camps. He also gave assurance for all sorts of support for the implementation.
He distributed the elderly-friendly materials at the Age Friendly Space at 13th Camp at Thangkhali village of Palangkhali Union.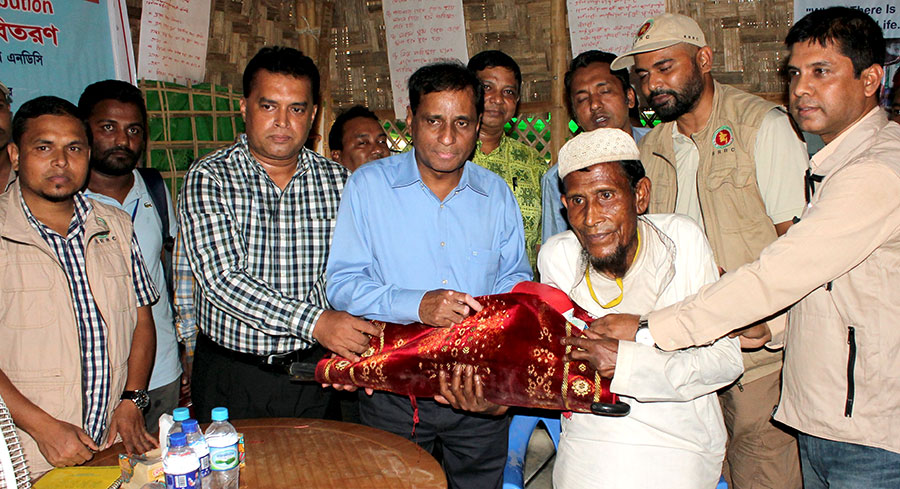 Camp-in-charge (CIC) Abdul Wahab Rashed; Chief Executive of YPSA Md. Arifur Rahman; Director (Finance) Palash Chowdhury; Assistant Director, Md. Shahidul Islam; Advocacy Officer of HelpAge Bangladesh Mohammad Faruq Ahmed; Rohingya Crisis Response Program Coordinator jisu Barua;Shah Sultan Shamim of the Department of Training and PC of YPSA-HelpeAge Project Jahang Mr. Alam were present during the distribution.