Md. Mahabubur Rahman Director (Social Development) YPSA visited a 5 day long residential training on 'Audio Visual SBCC Materials Use Guideline and Facilitation Skills ' under YPSA-SHOW Project on 31 October, 2018 at Hotel Gainingin Khagrachari. The training is for the Female Community Health Workers of YPSA-SHOW Project. Under the project total 26 video clips developed on MNCH/SRHR and adolescent health issues in a gender transformative approach in the local languages (Chakma, Marma, Tripura) along with Bangla language for SBCC sessions at community level.
The training focused on the use of the ICT based materials and exclusively on facilitation skills of the project staff. The training is facilitated by Mr. Md. Habibur Rahman (Technical Officer, YPSA-SHOW Project) and Mrs. Reshmee Chakma (Technical Officer-Gender Equality, YPSA-SHOW Project).
However, he along with the visiting team enjoyed one session of the training and also enjoyed a mock trail of the SBCC session for community people. In his speech in the training Director SD-YPSA thanked the project staffs for their effort and their encouraging performance. He said that YPSA envision a society where both men and women will enjoy equal rights, access and control over resources (equal empowerment), decision making power both health and other issues in their life. Health is a very basic human right. YPSA-SHOW project is contributing toward the reduction of maternal and child mortality in Panchari, Khagrachari. He urged the project staff for their highest contribution to meet the project ends and for that knowledge & practice along with honesty is very important. Our filed level workers are very hard working but you need to create an environment so that everyone will be benefited through the project of YPSA, he said. He also mentioned that we have our ambulance service, safety net support for poor mother& child and village savings groups along with other support which are unique in MNCH/SRHR project. We need to utilize these for the benefit of the poor and marginal women and girls. He also talk about different issues of maternal and child health.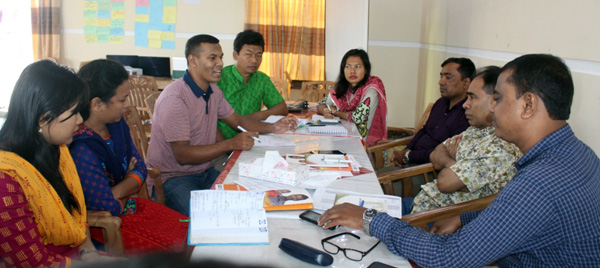 After that Mr. Mahabubur Rahman sit with the senior project staff of YPSA-SHOW and EC-SRHR Project. During the meeting update of both of the project was presented by the project staff. After listening to them, he gave detail guideline on the ongoing activity. He appreciated the cooperation between the two project (YPSA-SHOW Project and YPSA-EC-SRHR Project). He gave importance on proper implementation of every activity with proper budget utilization.
After the joint meeting he sit with the YPSA-SHOW Project staff. During the meeting an overview of the project was presented by Mr. Md. Habibur Rahman. After that Director SD-YPSA gave clear guideline for better achievement through team work. He said that our project staff are our ambassador. It is now time to show our achievement.Toward a very positive outcome we need to ensure team work with mutual respect, learning & sharing and professional handling of project issues, he said. He is very pleased to the progress of the YPSA-SHOW Project.
In the meeting Mr.Jashim Uddin (Project Manager, YPSA-SHOW Project), Mr. BilashBarua (Project Manager, YPSA-EC-SRHR Project), Mr. Safayet Hossain (Finance Coordinator, YPSA-SHOW Project), Shova Moni Chakma (Finance Coordinator, YPSA-EC-SRHR Project) and other senior staff of the two project were present. However, this type of visit is always act as inspiration for the project staff towards better achievement with proper direction.