YPSA celebrated National Youth Day 2018 at different working areas, on November 01, 2018. YPSA observed this day with the joint efforts of Government, NGOs, Education Institutions, Community People and Local Youth. This year's theme of the day is "জেগেছে যুব গড়বে দেশ, বঙ্গবন্ধুর বাংলাদেশ – Rising Youth, Bangabandhu's Bangladesh".
Colorful rallies, Discussion Meetings and award giving to the best youth entrepreneur were arranged to mark the day at different working areas of YPSA (Chittagong and Cox's Bazar).The day celebration was a great success as almost 1100 participants spontaneously participated with different professionals including  Government Officials, Academicians, NGO representatives, Civil Society, Student, Youth and Media people.
In Chittagong, YPSA brought out a colorful rally. After the rally, a discussion meeting was held on the background and importance of National Youth Day at YPSA Head Office, Chittagong. The meeting was moderated by Md. Abdus Sabur, Youth Focal, YPSA.
Md. Mahabubur Rahman, Director (Social Development), YPSA was present a chief guest in the meeting. He said, today's youth will be in the leadership role in the next 10-15 years. So, it is important to engage them of on all development paradigm and discourses. He also said that YPSA is a youth based organization. Youth development issues are inbuilt in all interventions of YPSA.
Palash Chowdhury, Director    (Finance), YPSA was presents as a special guest in the discussion meeting. He said, the vision 2021 of Bangladesh Government will not be achieved without meaningful engagement of youth in all development paradigms. He also said by considering the youth development we can built "Sonar Bangla" within targeted time frame.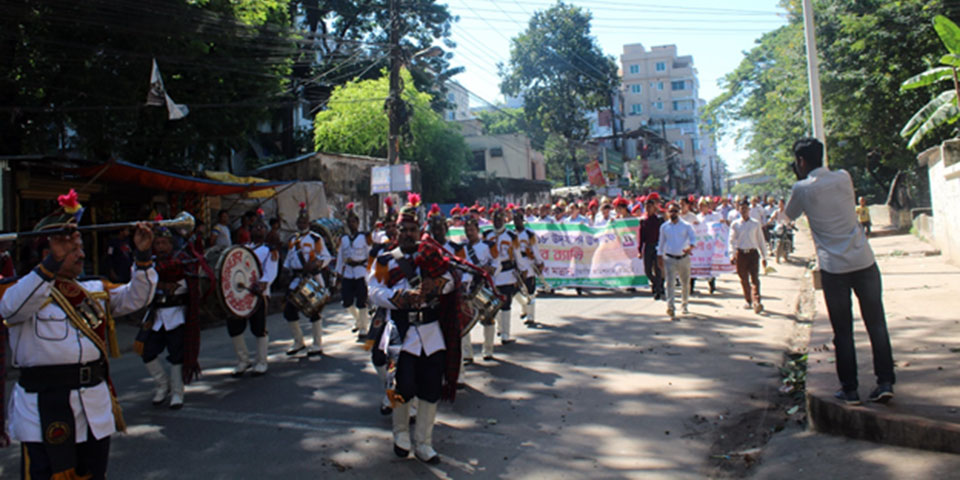 Besides, YPSA attended the events of Divisional Commissioner Office, District Administration Office, Department of youth, Chittagong.
The day was also celebrated in Rangunia , Sitakund, Ramu, Ukhiya, Tekanf, Cox's Bazar Sadar in association with Upazila Administrations.
Md. Arifur Rahman, Chief Executive, YPSA has given a special message on the occasion of National Youth Day'2018, he said, YPSAs has established in International Youth Year 1985. Youth development is an important concern of YPSA. Youth are the power house of nation and they are potential. We have to use their merit and creativity on building the nation.