YPSA has received the registration renewal certificate from the NGO Affairs Bureau (NGOAB) under the Prime Minister's Office of Government of Bangladesh which is valid up to 2030. NGOs play an important role in the social developmental field and contributing to achieve national goals and promises. Government of Bangladesh has been instrumental in carrying out the task of Sustainable Development Goals (SDGs) implementation by 2030 in collaboration with NGOs. YPSA expresses gratitude to the Government authority and development partners for being cooperative for achieving Sustainable Development Goals (SDGs) 2030.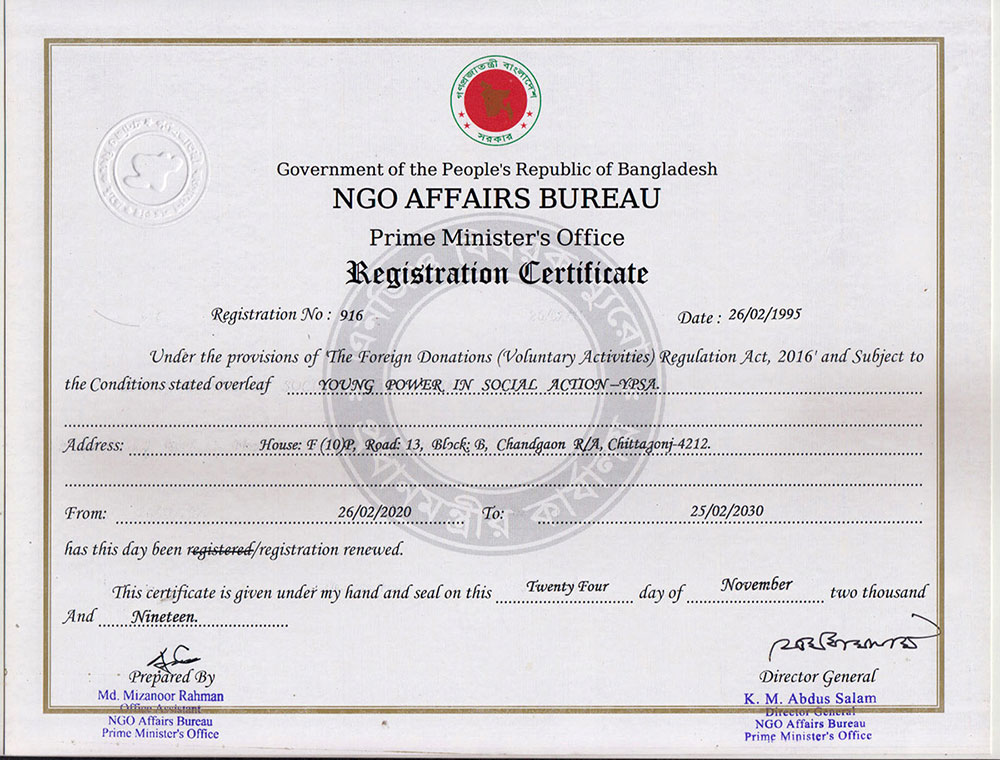 The NGO Affairs Bureau (NGOAB) was established in 1990 through an administrative order of the Government. Its prime objective is to provide one-stop service to the NGOs operating with foreign assistance and registered under the Foreign Donations (Voluntary Activities) Regulation Ordinance, 1978. In addition, it facilitates the activities of the NGOs in the country, and ensures their accountability to the state and thereby to the people of the country.  NGOs much certify in the project proposal that they receive foreign donation or contribution from legal sources. As part of enforcing Anti Money Laundering Act 2012 and Combating financing of terrorism bureau has the responsibility to make sure that money being channelized by NGOs is from legal sources.
NGOAB functions include registering NGOs, processing and approving NGO project proposals, disbursing project funds, approving appointment and tenure of services of expatriate officials and consultants, coordinating, monitoring, inspecting and evaluating NGO programmes, reviewing reports and statements, realizing fees/service charges from the NGOs, and maintaining liaison with the NGOs and donor agencies.
YPSA was established as a youth organization in 1985 (International Youth Year) and transformed into NGO in 1992. YPSA was registered with NGO Affairs Bureau in 1995. YPSA is also registered with the different departments of the People's Republic of Bangladesh including Department of Social welfare, Department of Youth Development, Health and Family Welfare, Copyright Office, Register of Joint Stock Companies and Firms and Micro Credit Regulatory Authority.
YPSA gains huge reputation and recognitions from the local, National and International arena by the proper implementation and expansions of its social development activities and network. YPSA has special consultative status of the United Nations Economic and Social Council (UN ECOSOC).
YPSA's social and economic development programs have played an active role in the grassroots level for achieving Millennium Development Goals (MDG) 2015 in Bangladesh. The organization's activities have achieved remarkable success in achieving the goal of MDGs with the support of local public representatives, local government institutions, Upazila/District administration and all government departments and ministries.
The Sustainable Development Goals (SDGs), also known as the Global Goals, were adopted by all United Nations Member States in 2015 as a universal call to action to end poverty, protect the planet and ensure that all people enjoy peace and prosperity by 2030. The SDGs replace the Millennium Development Goals (MDGs), which started a global effort in 2000 to tackle the indignity of poverty.
YPSA works on various development programs or projects based on organizational vision-mission-values ​​and community needs of the target population in accordance with its strategic plan. At present, YPSA is diligently working for 9 million people directly or indirectly on five development programmatic themes including Health; Economic Empowerment; Human Rights and Governance; Education; Environment Climate Change and Disaster Risk Reduction & Emergency Management.
YPSA very much grateful to NGO Affairs Bureau and Bangladesh Government to approve registration renewal up to 2030 and contributing to achieve the SDGs 2030 in Bangladesh.