A footbridge over Shitol Jhorna canal besides the Roufabad railway crossing has been constructed jointly by WDMC, Save the Children, BRAC and YPSA. The long-awaited Shitol Jhorna footbridge was inaugurated by the Ward Councilor Md. Mobarak Ali on 5th February. He affirmed the success of Shitol Jhorna a footbridge considering the existing vulnerability of Roufabad area regarding safe passing road over Shitol Jhorna canal. He recalled Roufabad fire incident and said due to absence of bridge, through the railway crossing it was impossible for fire service to reach the area.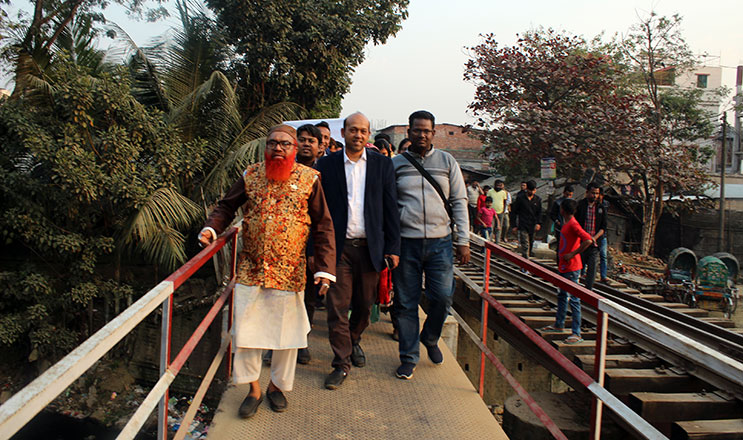 During the occasion other respected development practitioner were also present such as Abdus Sabur, Child focal manager of YPSA, Md. Rifat Ahmed, Program Organizer, BRAC, Kanta Islam Minu, WDMC member and Sanzida Akter, Ataul Hakim, Osman Goni, and Fahmida Noor from YPSA.
Save the Children conducted a risk assessment of 7 no ward under urban risk reduction project in cooperation with YPSA-PROYASH II team and respective Ward Disaster Management Committee (WDMC), where this rail track came out as one of the biggest risks in this area. Roufabad railway crossing was the only way to cross a certain distance over Shitol Jhorna a canal from one side to another. This line is way vulnerable for the local people while passing as it does not have any signal point before train arrival. Near the rail track KDS garments, Clipton and many other industries are situated and therefore, everyday 20,000-25,000 workers and more than 10,000 women garment workers have to pass this railway track.
Ward Councilor Md. Mobarok Ali acknowledged the issue too.  Considering the extent of risk, WDMC proposed to build a bridge over Shital Jhorna canal. Attended representative from PROYASH II in collaboration with BRAC expressed their interest to construct the bridge as part of their Clean-Green-Safe city approach. A five-member committee was formed to take the issue forward and by September, 2019 the committee finished the footbridge construction. Now including children, women and old people are using the new footbridge safely and everyone is thankful to Save the Children, BRAC, YPSA and local authority to initiate and implement this plan to make Shitol Jhorna footbridge.