As COVID-19 continues to wreak havoc on Bangladesh, YPSA distributed food and protective materials among 900 families including Islamic scholars and Hindu priests at different places in Cox's Bazar during 29-20 April.  YPSA has been implementing a project "COVID-19 Response in Bangladesh" with the support of Oxfam.  12 items of food and protective materials including rice, pulses, oil etc. in each package were distributed at Birshreshtha Ruhul Amin Stadium, Hajipara Mohammadia Hefzkhana in Jhilangjar, Haji Siddiquia KG School premises, Chaufaldandi, Eidgaon and Islampur Unions in Cox's Bazar.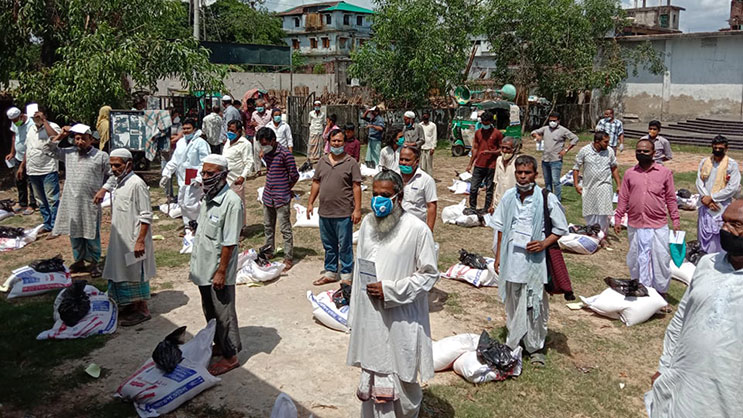 Fahmida Begum, Deputy Director, Islamic Foundation Cox's Bazar; Hamida Taher, Women Vice Chairman, Cox's Bazar Sadar Upazila Parishad; Dr. Mohammad Ali Ehesan, Upazila Health and Family Officer; Arafat Sohan, Senior Upazila Fisheries Officer (Sadar); Alhaj Maulana Sirajul Islam Siddiqui, President of Trained Imam Samiti; Jishu Barua, Program Manager of YPSA; Khaleda Begum, YPSA's Regional Head and Deputy Director;  Oxfam Representative Zillur Rahman; Assistant Director of IFA Sarwar Akbar; YPSA Cox's Bazar Focal Person Mohammad Harun, Project Manager Abidur Rahman, Finance Officer Mahmud Ullah were present during distribution.
Besides, Babul Sharma, General Secretary of District Puja Celebration Committee and member of Hindu Welfare Board of Trustees and Dipak Das, president of Sadar upazila Puja Celebration Committee were also present.