YPSA-CEVEC consortium (YPSA, Nongar & Help Cox's Bazar) under 'Community Engagement in Countering Violent Extremism in Chattogram Division (CEVEC)' project, supported by GCERF has taken initiative to distribute food, Hygiene materials in different areas of Cox's Bazar and Sitakund among the people who are vulnerable to COVID 19 Pandemic and VE issues.
In its consistency food package (Rice 15 kg, Pulse – 2 kg, Oil – 2 kg, Potato – 5 kg, Onion – 2 kg & Sugar – 2 kg) were distributed among 800 vulnerable beneficiaries for their families (members of Youth group, Youth club & Youth Forum, Court Yard participants) at Jhilongja Union, Khurushkul Union under Cox'sBazar Sadar Upazilla; Moheskhali Municipalty, Kutubjoom Union under Moheshkhali Upazilla; Baroitoli Union and Chakaria Municipality under Chakaria Upazilla; Fatekharkul union Parishad and South Mithaichori Union under Ramu Upazilla,  in Cox's Bazar District and Sayidpur Union, Kumira Union and Sitakunda Municipality at Chattogram District.
During that time, awareness leaflets on Covid-19 have been distributed among the community people in the respective areas.
These activities were successfully completed by maintaining social distance & safety under the planning & direct guidance of YPSA CEVEC Team Leader Ms. Khaleda Begum.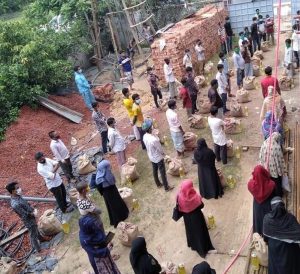 In different places these activities were inaugurated by Mr. Jamirul Islam, UNO, Moheshkhali Upazilla, Md. Tipu Sultan Chowdhury, Chairman of Jhilongja Union Parishod, Cox's Bazar Sadar, Mr. Nurul Hossen, Chairman (Acting) of Kutubjoom Union Parishod, Moheshkhali Upazilla, Mr. Jalal Shikder, Chairman of Boroitoli Union Parishod,Chakaria Upazilla, Mr. Faridul Alam –Chairman of Fatekharkul Union Parishad, Ramu Upazilla, Md. Yunus Bhutto, Chairman of South Mithachori Union, Ramu Upazilla, Mr. Didarul Alam Apello, 06 no. Ward Counselor of  Sitakunda Municipality, Md. Morshedul Alam Chowdhury, Chairman of 07 no. Kumira union Parishod, Sitakunda, Mr. H M Tajul Islam – Chairman of 01 no. Syedpur Union Parishod, Sitakunda,  Mr. Liton Chowdhury, Secretery of Sitakunda Press Club & General Member of YPSA,  Md. Sohel, Member of Khurushkul Union Parishod, Cox'sBazar, Md. Harun Ur Rashid – Member of 02 no. Ward, Sitakunda, Ms. Khuki Chowdhury, Women Leader & President of Mamata Mohila Somity, Chakaria.
At that time Ms. Khaleda Begum, Deputy Director, YPSA & Team leader, YPSA CEVEC Consortium;  Mr. Nazmul Barat Rony, Program Coordinator (Training & Campaign); Bana Ratna Tanchangya, M&E Officer from YPSA Consortium; Mohammad Harun, Program Manager, YPSA; Mr. Sadekul Islam, Project Manager, Help Cox'sBazar; Md. Rasel, Project Manager, Nongar; Mr. Shah Sultan Shamim, Upazilla Manager, Sitakunda; Mr. Aziz Shikder, Upazilla Manager, Moheshkhali; Mr. Abidur Rahman, Upazilla Manager, Cox's Bazar Sadar were present among others.