YPSA organized Journalist orientation on preventing violent extremism at Cox's Bazar, Moheshkhali and Sitakund on 23 September, 2020 under the project 'Community Engagement in Countering Violent Extremism in Chattogram Division' supported by GCERF & YPSA CEVEC consortium.
At Cox's Bazar, Journalist orientation workshop was held at YPSA Conference room, Cox's Bazar.  Mohammed Harun, Program Manager & Focal person, YPSA Cox's Bazar presented the key note paper in the program.
In discussion session, Mr. Hasanur Rashid, President of Journalist union & Editor of Dainik Himchari, Ansar Hossen, General Secretary of Journalist union & editor of Cox's Bazar Vison.com,  Mr. Sarwar Azam Manik, Staff reporter 'Channel I' Cox'sbazar, Mr. Farhad Ikbal, District representative of Dainik Manobkantho & Observer, Mr. Moyazzem Hossain Shakil, reporter of Voice of America (VoA) have delivered their speech.
They said that orientation on PVE was very much important to enhance their knowledge and it helped them for common understanding on PVE. They appreciated YPSA to implement this project on PVE & they would keep continue their support to YPSA and preventing violent Extremism. They expected that in near future YPSA would increase the number of participants of Journalist for such kind of valuable activities.
This orientation was conducted by Mr. Abidur Rahman, Upazilla Manager, YPSA, Cox's Bazar. Mr. Bana Ratna Tanchangya, Monitoring & Evolution officer from YPSA CEVEC consortium also attended.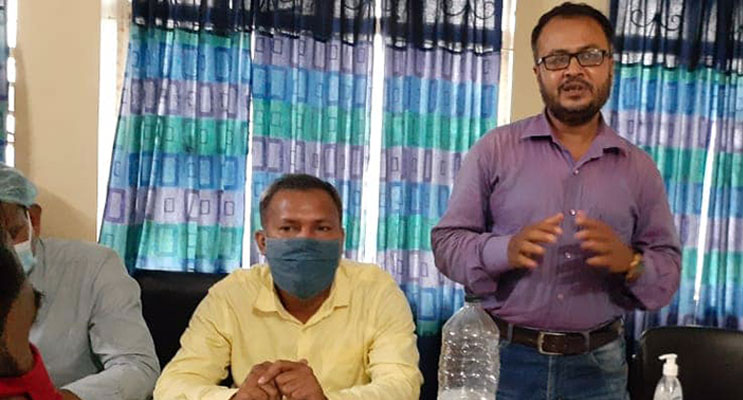 At Moheshkhali, Journalist orientation on preventing violent extremism was held in the same day at Leadership University College, Mheshkhali. Mohammad Joynal Abedin, Senion Journalist presided over the program. Mr. Nurul Islam, Officer In charge (Investigation), Moheshkhali Police Station (Thana).
Mr. Nazmul Barat Rony, Program Coordinator (Training & Campaign), YPSA CEVEC Consortium and Mr. Aziz Shikder, Focal Person, YPSA Moheshkhali have moderated this orientation. Mr. Asgar Hossein Chy, Upazilla Manager, YPSA Moheshkhali has conducted the orientation.
20 Journalist has attended that orientation. They have expressed their opinion, thought and scope of work on PVE in discussion session.
As Chief guest Mr. Nurul Islam, OC (Investigation), Moheshkhali Thana said, "We are very happy that YPSA is working on PVE issue. To keep maintain harmony in society it is very much important to build awareness on PVE in society. Without support from all It is not possible to uproot violent extremism from society by law enforcement. So that we have to work together to prevent violent extremism from our position to keep stable the society.'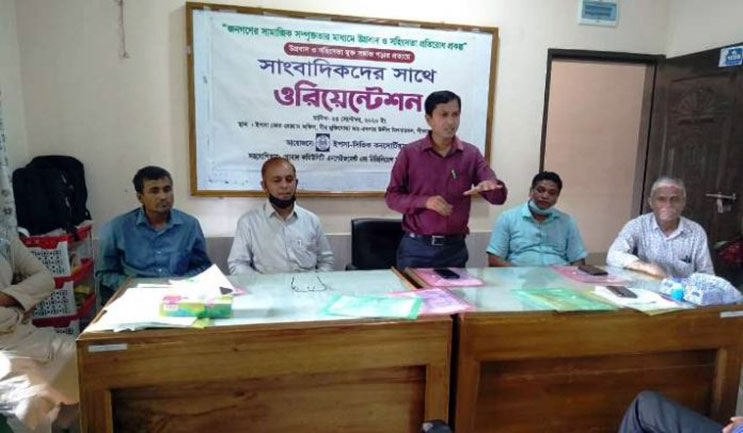 At Sitakunda, Journalist orientation on PVE has held at Bir Muktijoddha Dr. Ekhlas Uddin Auditorium, YPSA, Sitakund. M. Sekandar Hossen, Former President of Press Club chaired the program. Mr. Soumitra Chakraborty, President of Sitakunda Press Club was present as Chief Guest. Mr. Liton Chowdhury, Secretary of Sitakunda Press Club, Mr. Anisul Hoque, General Member, YPSA, Mr. Didarul Islam Hero, Upazilla Manager, Sitakunda Upazilla, YPSA were present as special guest.
Shah Sultan Shamim, Upazilla Manager, YPSA has moderated this orientation. This orientation conducted by Mr. Showkat Hossen, Field Facilitator, YPSA.