YPSA's Inclusion Works Project has organized a soft-skill training workshop for potential Job-seekers including persons with disability (PWDs) who have recently submitted their applications to Unilever Distribution Field Force program and Shopno outlet for Chattogram. The workshop took place at the Project Office on 12 September, 2020 at Sitakund. 12 participants have attended the training workshop. Out of them 3 were female and 9 were male. They applied various position of DFF, Unilever and Shopno outlet. The objectives of this training program are to develop soft-skill of potential job-seekers who are person with disability.  The agenda of the training workshop was as follows:
Values & Skills
Self-assessment
Fixation target and planning
Group works and helping group works
Problem solving and decision making
Interpersonal communication & relation
Interview process & facing strategy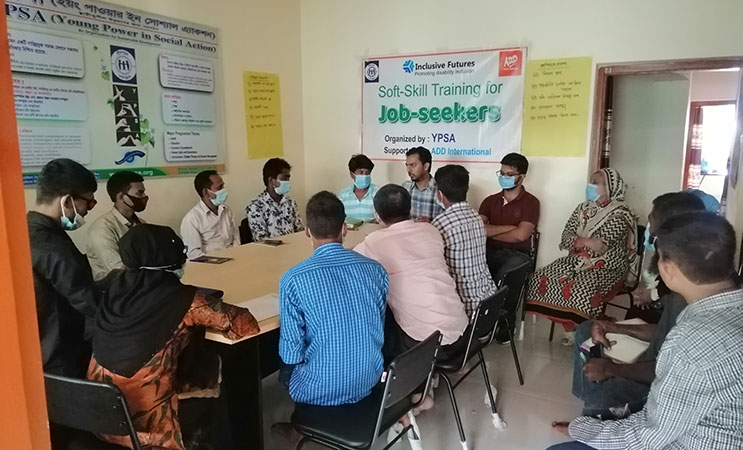 The day long orientation/training program was opening by project focal Mr. Newaz Mahmud and facilitated by Farah Amina Khatun, Technical Officer- IW.
Mr. Uttam Kumar Chakraborty, HR Manager & Compliance, A & A Shoes Ltd has joined as consultant of the training program and he discussed some issues like personality, leadership techniques and interview process.
The participants were very much happy as they learned many new things from the workshop and they convey thanks to YPSA; especially for the implementation of Inclusion Works Project.
After completion of the training workshop the facilitator has taken post test of the participants and they do good performance than pre-test. Lastly, Project Coordinator Mr. Shawkat Ali delivered closing speech and finished with thanks to all participants and ADD International for technical and financial support for this mission.