YPSA Inclusion Works Project has organized quarterly coordination meeting of Disabled People's Organization (DPO) on 14 September, 2020 at HRDC, YPSA Sitakund. Md. Rashedul Islam, Assistant Commissioner- Land, Sitakund UNO office attended as Chief Chef in the daylong meeting which was inaugurated by project focal person Mr. Newaz Mahmud and facilitated by Inclusion Works Project Coordinator Mr. Shawkat Ali. Mr. Abdus Sabur, Focal Person Child Safe-guarding, YPSA was present as special guest in the meeting program. The main agenda of the events were:
Neuro development law
DPOs updates ( Individual DPO status)
Financial management and Practicing
Progress and review of DPO yearly plan ,2020
Way of DPO engagement with employers
Safe-guarding issue/policy and role of DPO safe-guarding focal person
Mr. Rashedul Islam, Assistant Commissioner-Land, Sitakund delivered his speech and pass on thanks to YPSA for working with the community akin to person with disabilities who have in diffident situation in our society in terms of their dignity and rights; where YPSA is working to established those issues for person with disabilities. He also convey thanks to ADD International for technical and financial support as well.  He said, Sitakund Upazilla administration always has positive aspect to support for implementation any project/program implementation by YPSA.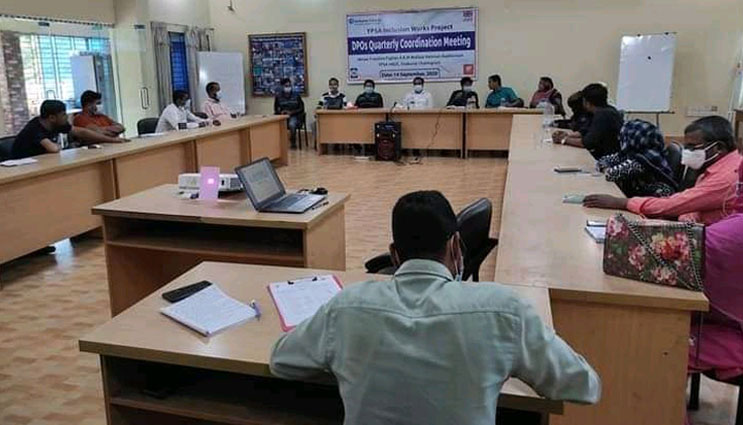 Then after, YPSA Child Focal person Mr. Abdus Sabur presented child protection policy throughout the power point presentation. All the Participant of 'DPO quarterly coordination meeting' has got and learned about the objectives of the child protection policy, policy for whom? Description risk of child protection policy, Do's and Don'ts under the policy; which was very effectual information for DPOs and DPO leaders as well.
Later, Mr. Newaz Mahmud, Focal Person presented the content of 'Neuro Development Law' and participants take thoughts about this law and distributed the hand out and soft copy of this content as they will preserve it and further discuss in the DPO level members and with others. Finance Officer Ms Shaira Begum presented the financial good practice and she showed the format to maintaining the financial expenses or budgets maintaining.
Project Coordinator Mr. Shawkat Ali sum up all those topics and all DPO leaders promised in the meeting to follow the financial good practice, disability rights and law, review in the yearly plan for next steps, increase DPO engagement with potential employers in each areas, strictly comply with the child and adult safeguard policy and effective coordination with YPSA inclusion works project for their DPOs development, in implementation process and to up surging the relation with the community, NGOs, government office and related sectors as they can understood much more the project is mainly for their development and capacity building of DPOs.
Finally, Project Coordinator Mr. Shawkat Ali delivered concluding speech and ended the events with thanks to all DPO leaders, participants and also thanks to ADD International for technically and financially supports to achieve the ultimate goal and objectives of the 'Inclusion Works Project.