YPSA organized Urban Risk Assessment (URA) Validation workshop of 8 no ward on 15th November, 2020 in G E C Palace, G. E. C circle with the support of Save the Children. Chattogram City Corporation Secretary Abu Shahed Chowdhury was present as chief guest in the event. Former Councilor of ward 8 Alhaj Md. Morshed Alam, former women councilor of reserved ward 7 and 8 Jasmine Parveen Jesse, Headmistress of Nasirabad Colony School Farhana Yasmin, Karnafuli Gas Deputy Manager, Md. Zahurul Islam, Fire Service and Civil Defense Biojit Station Officer, Md. Jahed, Sub-Inspecter of Panchlaish thana, Abdul Mottaleb, Proyash team members, UCV and WDMC members were present. Project Officer Muhammad Ataul Hakim conducted the workshop.
Sanjida Akhter, Project Coordinator, Prayash-II, gave a welcome speech, she thanked all participants and drew the attention of the Chattogram City Corporation authorities to incorporate the primary data of URA findings on 8 no ward's risk and resource into the project of Chattogram City Corporation in the next financial year.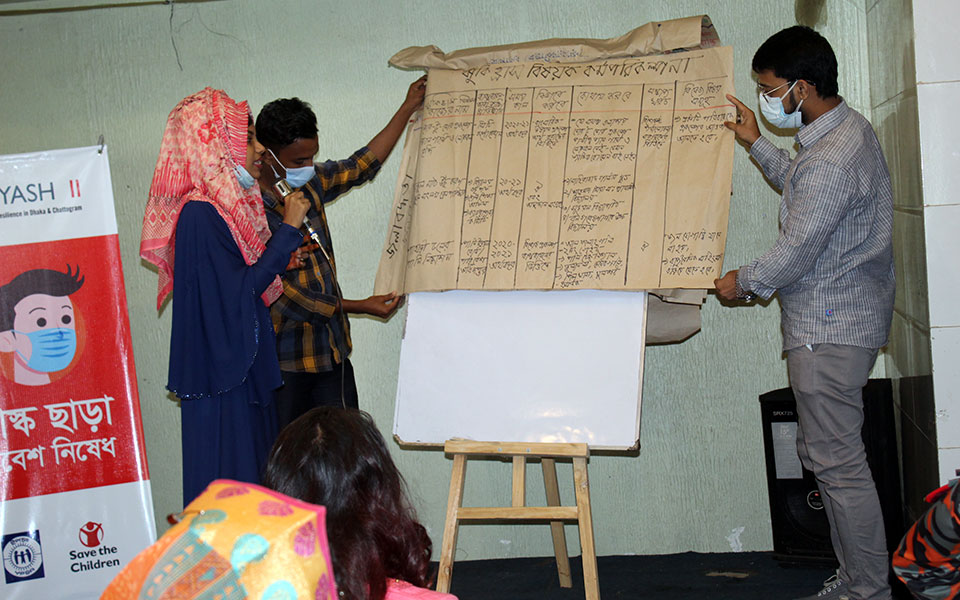 After that, poster presentation on risk assessment was presented by Fahmina Akter Nijhum, Nasrin Uddin Meghla, Md. Kausar, members of City Risk Assessment Committee respectively. Presentations were presented on the hazards of 8 no ward, van diagram, stakeholder mapping, risk and asset mapping, risk details, risk mitigation action plan etc.
At the end of the presentation, representatives of WASA, Karnafuli Gas, teachers and Mahalla committee participated in the open discussion. Secretary of Chattogram City Corporation Abu Shahed Chowdhury, who was the chief guest at the event, said that no work can be accomplished without the involvement of grassroots. The report of the 8 no Ward on the participation of marginalized people is of special importance considering the risks they have brought here considering the project / budget of Chittagong City Corporation. He assured that there will be a place.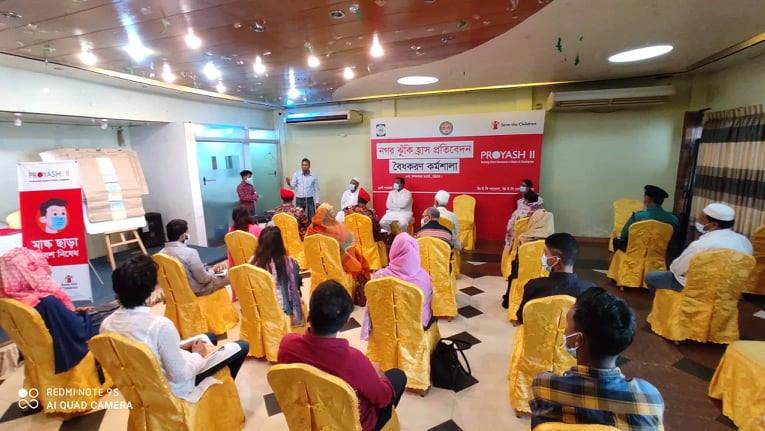 Md. Morshed Alam, former councilor of the ward, said that WDMC has very nicely identified some important issues of ward no 8. He said some initiatives were already taken for the identified risks here, adding that if the people re-elected in the forthcoming city corporation elections, he would work to resolve other issues in phases and would continue to do his best to bring the identified issues to the notice of the authorities.
Jasmine Parveen Jesse, a former woman councilor in the reserved seat, said that the issues that have arisen from the marginal stage can certainly play an important role in the development project / budget formulation of the city corporation. She lauded the positive work of YPSA and Save the Children with Chattogram City Corporation in reducing the risk.