Mr. Mohammad Moinuddin Abdullah, Managing Director of Palli Karma-Sahayak Foundation (PKSF) and Former Senior Secretary of Government of Bangladesh visited YPSA's activities in Chattogram on January 28, 2021. PKSF Deputy Managing Director Dr. Md. Jasim Uddin was also present during the visit.
The activities include the Inclusive financing program for persons with disabilities, goat rearing (loft system) project, various activities of Agricultural Units and Fisheries and Livestock units, livelihood development programs for the elderly, adolescence programs, extension of high value fruit and crop farming technology. Red Chittagong Cattle (RCC) project, development of eco-tourism industry, production of alternative crops to control tobacco cultivation and creation of diversified sources of income, bean seed (Khaisya) processing and marketing project, Sustainable Enterprise Project (SEP), YPSA Physiotherapy Center and Radio Sagar Giri FM 99.2 in Sitakund.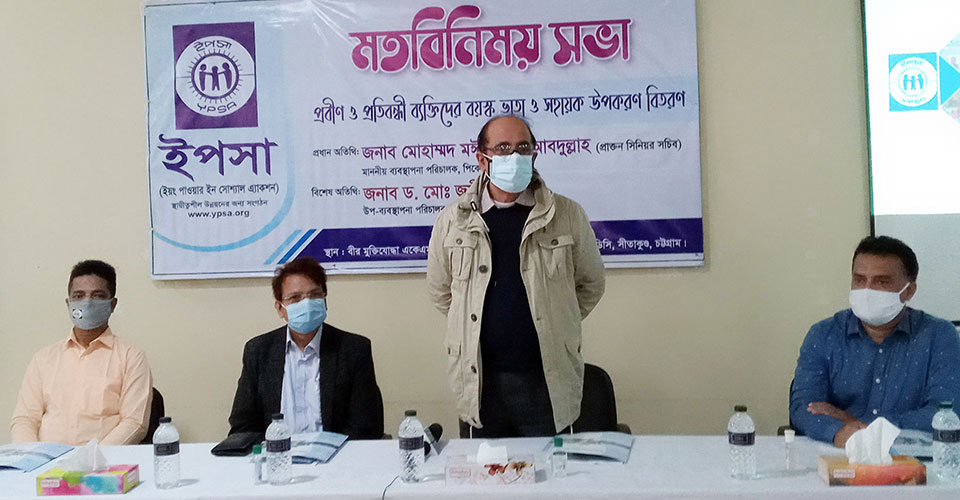 After the visit, Managing Director of PKSF have attended a meeting as the chief guest at the Bir Muktijoddha AKM Mafizur Rahman hall, YPSA-HRDC in Sitakund and discussed various issues with the participants. He added, Bangladesh has come a long way economically. In its continuation, YPSA is conducting various activities including education, health, and agriculture to reduce the inequality of the society. He hoped that everyone's participation would be ensured for the smooth implementation of the programs implemented by YPSA.
At the beginning of the meeting, Chief Executive of YPSA Md. Arifur Rahman, present YPSA and its activities implemented in collaboration with PKSF.
At the end of the meeting, old age allowance to 10 senior citizens (elderly) and assistive devices (wheel chairs, crutches and toilet chairs) to 6 persons with disabilities. Director (Economic Development) of YPSA Md. Manzur Murshed Chowdhury was also present at the meeting.