Launching Ceremony of YPSA's journal "Social Change", a Journal for Social Development, Volume 9, issue 1, 2019 was held at YPSA Head Office, Chattogram on 04 February, 2021. Renowned academician Dr. Niaz Ahmed Khan, Professor and former Chairman at the Department of Development Studies, University of Dhaka and former country representative of International Union for Conservation of Nature (IUCN) was present as the chief guest in the program and launched the Social Change journal.
Md. Arifur Rahman, editor in Chief of Social Change Journal, said, YPSA started to publish this journal Social Change for exploring the prevailing status of the community and help the scholars for promoting their research works by publishing it. He mentioned that Social Change has already been introduced with many national and international universities, organization and academic institutions. We get many responses to this from the readers around the world.
Social Change is a journal for Social Development published once in a year by YPSA. It is designed to promote understanding of the society at its depth touching upon both theoretical and empirical dimensions of research. Social Change is an open access and printed journal where the accepted articles being published online and hard copy also access is free of charge for both the abstract and full text of the article.
During the speech of chief guest Professor Dr. Niaz Ahmed Khan remembering the history of social change publication and YPSA contribution for publication of Chittagong university journal long years ago. He said Social Change journal is now crossed 10  volume of publication and now this is time for enter in the international area for popularity and acceptance for academicians and researcher all over the world through peer review and online medium. This is very important for YPSA which exposes the innovation and research based write-up to readers of the social change. This also develops skills and provides opportunities to the organization for gathering information of socio-economic condition of the society.  Every editorial memberof Social Change Journals; Directors and other senior staffs of YPSA were present in the launching ceremony.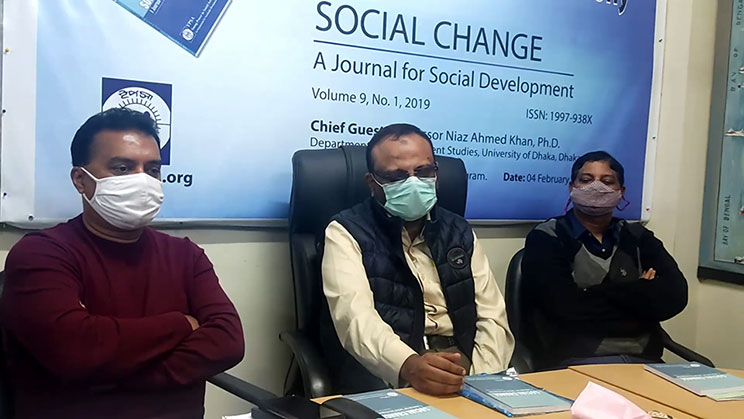 After the launching ceremony Professor Dr. Niaz Ahmed Khan facilitation of the training on 'Result Based Monitoring Framework and RBM: A Primer' to the YPSA team for mind set up on development of monitoring framework, indicator development, result based montoring framework for development of fruitful project proposal to international donar agency and capacity development for development activists.