On 23rd May, 2021 Kazi Muhammad Mozammel Haque, Chief Executive Officer (CEO) of Chittagong City Corporation (CCC) has visited Ward-7 field areas and activities under Proyash II project implemented by YPSA and supported by Save the Children. During the visit Mubarak Ali, Councilor and the Secretary of WDMC and Mainul Hossain Ali Chowdhury, Chittagong City Corporation Forest and Slum Development Officer were also present.
At first CEO of CCC visited the Councilor's Office for the meeting with the Disaster Management Committee and Urban Community Volunteers. He appreciated urban community volunteers' contribution without any financial incentives and YPSA's role to organize the group. He added that UCV's humanitarian activities during COVID-19 is commendable.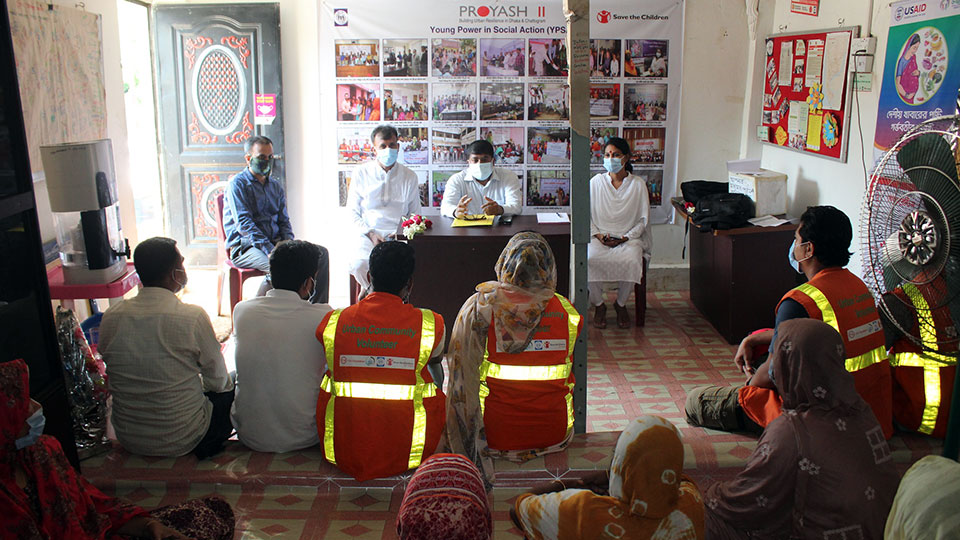 To be mentioned here, according to the SOD prepared by the Ministry of Relief and Disaster Management, a trained urban community volunteer team has formed under Ward Councilor and trained by FSCD to work for Disaster Risk Reduction. However, city volunteer teams have not yet been formed in many wards.
After meeting with the city volunteers, the CEO attended a meeting with the women group in the resource center at Amin Colony and discussed about their social activities. He also visited some hand washing corners set up by YPSA in Ward-7 and Sheetoljhorna Bridge in Raufabad.