YPSA organized a virtual dialogue with the support of Save the Children with 18 Youth forum and organizations on finding the ways to frame Safe, Sustainable and Inclusive Chattogram City. Simon Rahman, Manager, Urban resilience, save the Children gave the welcome speech and Obidul Islam, Senior Officer, Save the Children facilitated the dialogue. Simon Rahman briefed the objective of the dialogue and said "Youth are the superman of a community who brings wonderful and out of the box ideas and work with great enthusiasm. Therefore we want to bring all the youth network in Chattogrtam under one umbrella and help them in coordination with local government, so that in future they can work as an independent wing with all the government initiatives for positive social change".
At the beginning all the organizations shared their regular activities along with COVID-19 response. The attended youth forums and organizations were, NCTF, CUSD, Red Crescent Youth Forum, SDG Youth Forum, Manobik, Positive Thinkers, Jagroto Jubo Samajik Songho, Progressive Youth Club, Ushar Alo Jubo Songho, Youth Voice of Chittagong, Shotodol Jubo Shongho, Tripto, Alleviation 360, Team Chittagong, Power to Bloom. In addition to that representatives of urban community volunteers also attended the meeting.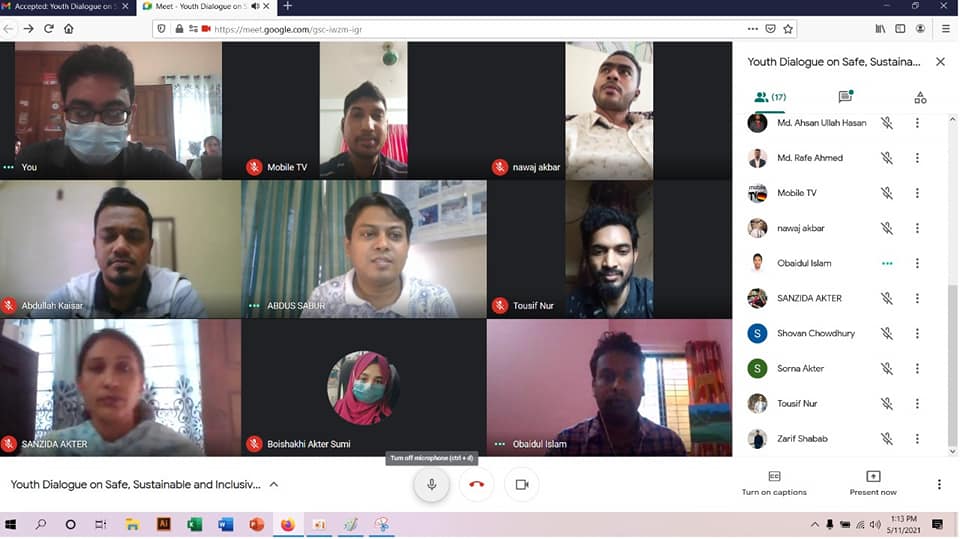 Next an open discussion held among the participant on the issues to work for future Safe, Sustainable and Inclusive Chattogram City. Participants addressed water logging, drainage system, waste management, safe playground, road safety and overall environmental impact due to climate change as the key issues at present in Chattogram. By addressing this issue to work together for better solutions everyone agrees to form a common platform in social media as well as to form a technical committee which will work as a guide of Youth network in Chattogram.
In the dialogue Youth Focal of YPSA Abdus Sabur was also present. He says, "This initiative is very crucial at this moment as young power is the key to bring any social movement for better social development. YPSA has been working to get together all the youth forum of Bangladesh and form as unit power. Therefore, YPSA will be always supportive of such wonderful initiatives".
Sanzida Akter, Project Co-ordinator of Proyash II add to his speech that "Bangladesh has achieved independence with the handful youth, so we have huge expectations from our youth for building safe and strong nation. We hope today's effort to bring all the youth network under one umbrella will bring positive outcome for safe, sustainable and inclusive Chattogram city".
Next Obidul Islam declared about organizing a youth conference in future to have broader strong youth network in Chattogram. He concluded the dialogue expecting everyone's cooperation to fulfill the objective of building one strong youth network in Chattogram.