This year YPSA's "Empowering women with disabilities through market-driven ICT training and accessible information on SRHR" initiative has become the Champion of the WSIS Prize under the category "Access to information and knowledge". The prize-giving ceremony will be held during the WSIS Forum 2021 (17 – 21 May).
The World Summit on the Information Society (WSIS) is a unique two-phase United Nations (UN) summit that was initiated in order to create an evolving multi-stakeholder platform aimed at addressing the issues raised by information and communication technologies (ICTs) through a structured and inclusive approach. The WSIS Prizes contest was developed in response to requests from the WSIS stakeholders to create an effective mechanism to evaluate projects and activities that leverage the power of information and communication technologies (ICTs) to advance sustainable development.
Since its establishment, YPSA has considered Disability Inclusive development as its core agenda which started from the local level and spread to the national and international arena. The goal of this WSIS prize-winning initiative, which was a collaboration between YPSA  and the EMK Center, Dhaka, was to empower women with disabilities by providing them with specific result-focused, market-driven ICT training along with facilitation for job placement (Women with disabilities are getting market driven ICT training at YPSA-IRCD), and also adequate accessible informative materials on sexual and reproductive health right (SRHR). Thus preparing them for a satisfactory personal and professional life.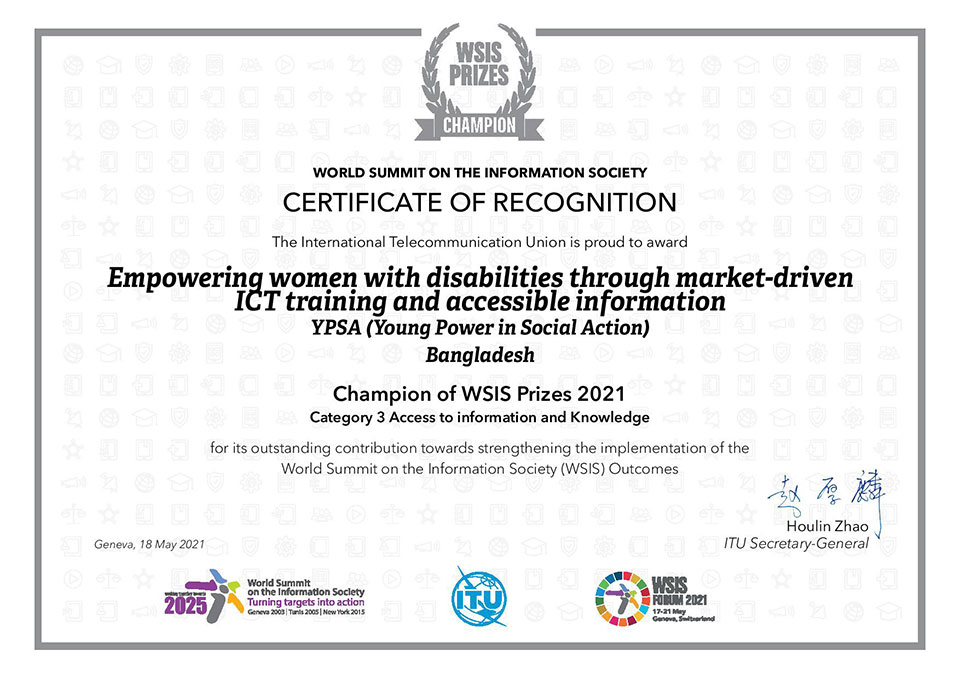 This initiative has achieved its goal by undertaking different sorts of in-demand and unique actions. First of all, selected women with disabilities have been given market-driven ICT training which has enabled them to apply for any jobs that require ICT knowledge along with other necessary credentials. This initiative has also created an online database with case studies of all the women with disabilities who were selected for training. As most of them were students and visually impaired; therefore, besides increasing their employability, these skills have provided them with the necessary expertise that is needed to access accessible study contents and other materials from the internet. Also, all these women are now able to train and transfer their acquired skills to other persons with disabilities if given the proper opportunity and mechanism.
What is more, all the SRHR contents that have been developed under this initiative have been distributed among hundreds of women with disabilities so that they become aware of these issues. Also, these contents have been uploaded online for wider dissemination so that anyone who wants to learn about these issues can download these from anywhere in the world.
To scale up this initiative YPSA has undertaken two new projects titled "Introduce and Promote Disability-Inclusive Accessible SRHR for All" and "Checklist for Promoting Disability Inclusion and accessibility in the SRHR Sector". Under the first project, YPSA has already developed Bangladesh's 1st integrated online accessible platform on SRHR (www.accessiblesrhr.org) and a comprehensive guideline for promoting disability-inclusive accessible SRHR in Bangladesh. Both of these projects are supported by Share-Net International, Netherlands.