YPSA organized a daylong Consultation Workshop on 5th Strategic Plan (2021-2026) on 14th June, 2021 at YPSA-HRDC, Sitakund, Chattogram. The objective of the consultation is to share the outcomes of 4th Strategic Plan and set achievable goals for next 5 years align with YPSA's mission and vision.
42 senior officials attended the workshop including Md. Arifur Rahman, Chief Executive, YPSA, Md Manzur Murshed Chawdhury, Director (Economic development), Mohammad Shahjahan, Deputy Director and Head-YPSA KM4D, and Nasim Banu, Deputy Director (Social development). The event was co-facilitated by Mr. Mohammad Shahjahan and Ms. Nasim Banu.
Mr. Md. Arifur Rahman gave a welcome speech at the beginning of the workshop. He thanked everyone for attending the workshop and encouraged everyone for an effective group effort for making an achievable and result oriented strategic consultation plan (2021-2026).
The Workshop followed by different presentations according to the agendas. The agendas were, introduction and share objective of the workshop, a very brief presentation on 4th Strategic plan, lesson learning, SWOT analysis, target audiences for next five years, thematic areas for next five years, priority areas under each thematic areas for next five years and expected result, strategies and actions, after each presentation participants divided into different teams for group discussions and presented their opinions through multi-media. During the group presentation the floor was open for further discussions and suggestions.
The plan will be based on reviewing the following documents:
 YPSA constitution
External assessment report
 Documents of previous strategic plan
 Perspective Plan of Bangladesh 2021 – 2041 introduced by the government of Bangladesh
 8th Five years plan FY 2021 – FY 2025 endorsed by the government of Bangladesh
 Bangladesh Delta plan 2100 approved by the government of Bangladesh
 UN Sustainable Development Goal 2030
 Collecting Program learning and experiences
SWOT analysis
 Feedback
Ms. Nasim Banu presented YPSA's mission, vision, working parameters, achievements and recognitions in brief at the very beginning of her presentation for better understanding of audience, especially for new employees. Next she explained the timeline of YPSA's strategic plan which was started from July, 1997. Each of the plan phases is fixed to five years. This year YPSA is going to revise the 5th strategic plan for the year of 2021-2026.
Before the start of planning for the new phase Ms. Shyamali explained the target vs. achievement according to the potential target populations/stakeholders and thematic areas which was fixed in the 4th strategic plan (July 2016-June 2021).
She mentioned YPSA has successfully implemented 15 projects under the theme Health, 13 projects under Education, 28 projects under human rights and good governance, 23 projects under Economic development and 16 projects under Environment, Climate Change and Disaster management. Besides YPSA has executed 38 projects under Humanitarian Response Program for Rohingya Community in Cox's bazaar. Moreover, YPSA proactively responded to need based emergency health, WASH, protection assistance and food support during the COVID-19 pandemic. The approaches for project implementations were advocacy, capacity building, awareness building, social mobilization, and network and partnership. In addition, during program execution YPSA always prioritize and ensure inclusion through following cross-cutting issues:
Promote Gender equality and women empowerment
Ensure access of Persons with disabilities in all development program
Promote participation and empowerment of youth
Strengthen the access and uses of Information and communication technology
Mr. Shahjahan presented on lesson learning, missed opportunity and challenges from last phase of strategic plan and practices. He mentioned lesson learning is documented experiences from both positive and negative experiences. Positive learning can be used as best practices for organizational development and negative experiences can be useful to improve future projects and plan. He also explained the missed opportunity which we have missed for a reason and identifying the missed opportunity can help to learn and drive for future growth. Lastly the importance of documenting challenges that everyone face during project intervention were also discussed. After the presentation the participants were divided into five groups and asked to discuss lessons learned, missed opportunity and challenges.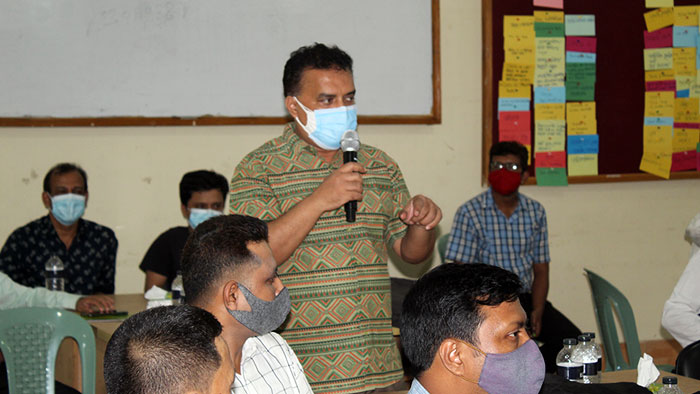 After the group discussion Mr. Md. Arifur Rahman gave closing marks for the day. He thanked all the participants for their enthusiastic participation and mark the significant outcome from last phase. At last he asked all to work together from the mind of ownership of the organization.