International actors must redouble their effort to put pressure on the Myanmar government to ensure a dignified and sustainable repatriation which is the ultimate solution to the Rohingya crisis. Speakers made the remarks at a webinar organized by the CSO-NGO Forum (CCNF) in Cox's Bazar on June 20. They also expressed the view that the human dignity of the displaced Rohingya people, social solidarity with the local people and restoration of the damaged environment must be ensured before repatriation.
CCNF, a network of 50 local and national NGOs working in Cox's Bazar, organized a webinar titled 'World Refugee Day: Together We Heal, Learn and Shine' on the occasion of World Refugee Day. The webinar was hosted by Rezaul Karim Chowdhury, CCNF Co-Chair and Executive Director of Coast Foundation and Abu Morshed Chowdhury, Executive Director of Pulse.
Md. Arifur Rahman, Chief Executive of YPSA, Shirin Haque from the NARI Pakkha, Gawhar Naeem Wahra from the Disaster Forum, IOM's representative in Cox's Bazar Manuel Moniz Pereira, NGO platform coordinator Pias Mulanja, UNHCR's deputy representative in Bangladesh Su Chin Ri, among others, spoke on the webinar.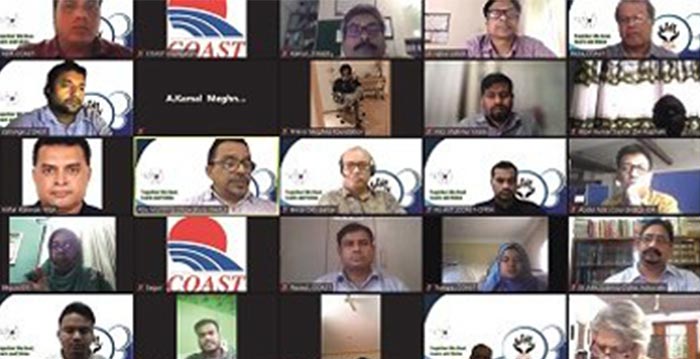 Arifur Rahman said human trafficking is an organized crime. Many people, including influential people, are tempting the Rohingya people to be trafficked. There is a need to raise awareness about this.
Manuel Moniz Pereira said relying entirely on humanitarian aid is not a sustainable solution. There is a need to establish demand-driven economic cooperation and communication between the Rohingya and the local population. Emphasis should be placed on afforestation as much as possible.
Pias Mulonja said local-national NGOs and INGOs need to have good relations and trust with each other to effectively manage the Rohingya response.
Su Jin ray says it is unfortunate that the number of refugees has doubled in the last ten years. Bangladesh has opened its doors to more than one million Rohingyas, which is truly commendable. The sacrifice of the local people is commendable. Now we need to ensure the dignity of the displaced Rohingya people until they are repatriated.