Frontrunners of various voluntary and non-government organizations in Chottagram today organized a solidarity rally demanding an end to the construction of hospitals or any other facilities in the CRB which is famous as 'Lungs of Chottagram ', destroying nature. Speakers at the rally said that the ongoing movement against the construction of hospitals in the CRB will continue till the decision to set up a hospital in the area is canceled. We will also involve the grassroots people of Chottagram in this process.
The event took place at Sat Rastar Mour in CRB on August 22, 2022.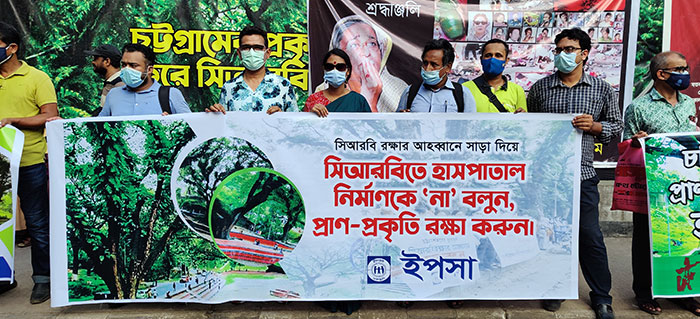 Md. Arifur Rahman, Chief Executive at YPSA spoke in the meeting which was moderated by Utpal Barua, Chief Executive, Bright Bangladesh Forum (BBF).
Elma Chief Executive Jasmine Sultana Paru, CAB President SM Nazer Hossain, Banful Chief Executive Rezia Begum, UTSA Executive Director Mostafa Kamal Jatra, Environmental Research Professor Idris Ali and others also spoke.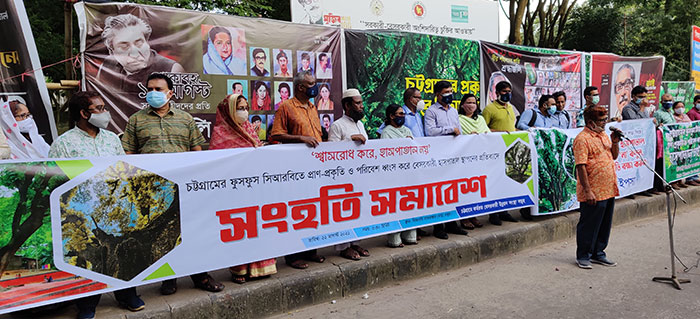 Besides, more than 20  non-profit development organizations of Chottagram such as UTSA, YPSA, Palli Foundation, IF Projanmo Chottagram, CAB, Elma, Swapnil Bright Foundation, Manisha, Bright Bangladesh Forum, Drishti, ISDCM, Aparajeyo Bangladesh, Pratya Social Foundation, Mamata, ADAB, CRCD, DSK, Bonaful, Upakul and many other organizations participated in the Solidarity rally.