YPSA organized a Mayor Dialogue on Mayor Award and Sustainable Waste Management Initiative for a cleaner, greener and safer Chattogram city. The program was held at the Conference room of Chattogram City Corporation (CCC) on 7th September, 2021. In the event, City Mayor Md. Rezaul Karim Chawdhury was present as Chief Guest. The event was moderated by the Secretary of CCC and facilitated by Mobarak Ali, the president of Waste management standing committee and Ward 7 Councilor.
Mr. Arifur Rahman, Chief Executive of YPSA gave the welcome speech. He said, "Development requires both citizen involvement and technical support. YPSA and Save the Children will always work in supporting the initiatives taken by CCC for the urban development such as sustainable waste management and Mayor Award."
Obidul Islam, Senior Officer-Program of Save the Children presented about the Mayor Award and sustainable waste management initiatives in details in the event. He explained the objective of Mayor Award, he said Mayor Award will annually recognize individual, institutional and community based initiatives for contributing to making Chattogram city clean, green & safe for the city-dwellers. This award will encourage ideas and initiatives from individuals, institutions and communities through voluntary initiatives and urban solutions for a sustainable and safe city.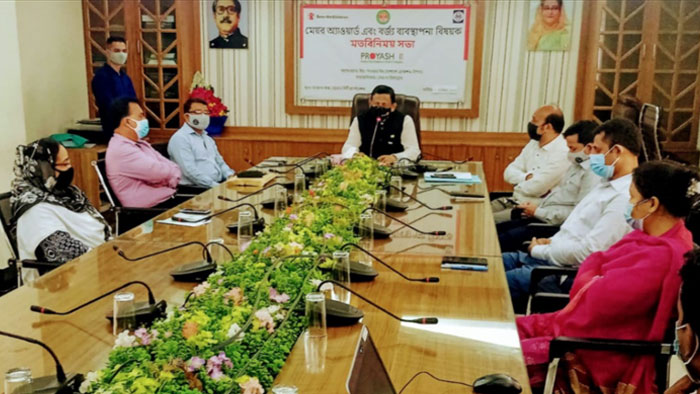 He added about another initiative on creating sustainable Waste management model and mentioned that to set an example of sustainable waste management by engaging people in the community, building improved waste collection systems, building transportation systems and turning waste into resources are the main objective of such initiative.
Among others, Lutfun Nahar, Education Officer, Chattogram City Corporation, Moshtaq Hossain, Humanitarian Director, Save the Children, Muhammad Abul Hashem, Private Secretary to the Hon'ble Mayor, Simon Rahman, Manager-Urban Reseilience, Save the Children, Md. Shahin, Deputy Chief Cleaning Officer, Md. Morshedul Alam Chowdhury, Slum Development Officer, Moinul Hossain Joy, and Project Coordinator of YPSA Mr. Sanzida Akter were present.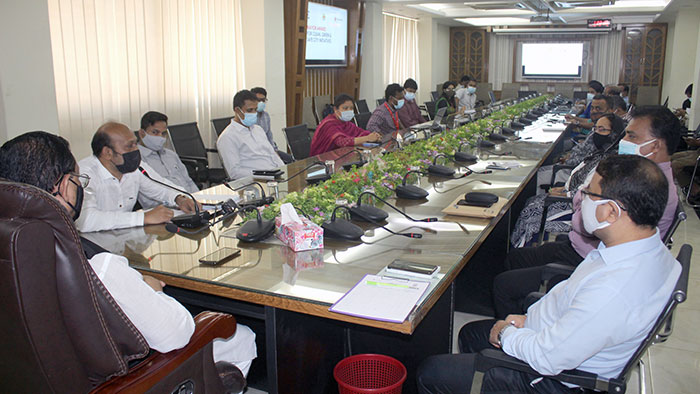 Humanitarian Director of Save the Children congratulates CCC for forming 1506 volunteers in 41 wards of CCC. He mentioned, "This is a moment of proud for all of us and we heartily congratulate CCC for this milestone of forming 1506 volunteers in 41 wards. This is the high time we can start working for UCV management and support them of becoming institutionalized. I believe the idea of Mayor Award will work as powerful incentives for our UCVs. For building a cleaner, greener and safer city Save the children eager to provide technical support. Therefore, Save the Children and YPSA will primarily provide technical support to CCC for creating sustainable waste management model and Mayor Award."
Secretary of City Mayor Said, sustainable waste management initiative is the call for today. This pilot program has a vision to review after six months and take steps accordingly which is praiseworthy. Also Mayor Award for community welfare will also create a healthy competition among all and will encourage youth for participate in more volunteer work."
At the end City Mayor praises the two initiatives about Mayor Award and Sustainable Waste Management Model. He said, I believe that this pilot project on waste management will leave a sustainable model in Chattogram City Corporation and if this works we will spread such idea in 41 wards like we did about forming urban Community volunteers in 41 wards when we see their tremendous community work and dedication for volunteerism supported by YPSA and Save the Children. I express my heartfull thanks to Ward 7 Councilor, Mobarak Ali, YPSA and Save the Children for sharing such ideas. We will keep encouraging our citizens for such good work by giving them recognition and other technical support".
Media Coverage