Microcredit Regulatory Authority (MRA) of Bangladesh government arranged a view exchange meeting with the chief executives of microfinance institutions working in Chattogram region on October 2, 2021 at the Chattogram Circuit House.
Divisional Commissioner, Chattogram Kamrul Hasan was present as the Chief Guest while Md. Fasiullah, Executive Vice Chairman of the Microcredit Regulatory Authority presided over the function. The Additional Deputy Commissioner (ADC) Jamshed Khandaker; Director of MRA Mr. Mohammad Majeedul Haque and Md. Noor Alam Mehedi were present as guest of honor.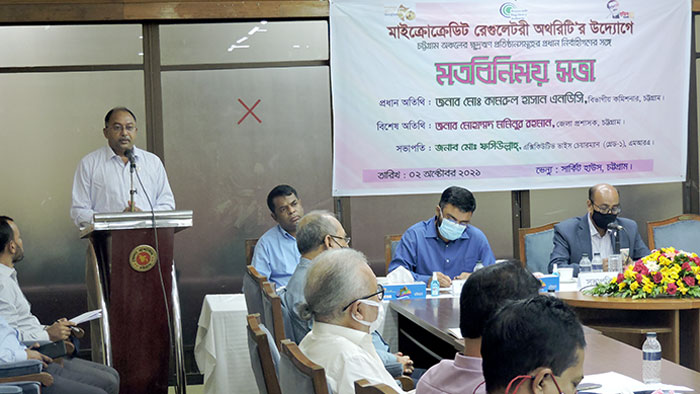 Deputy Director of MRA Mohammad Abdul Mannan, Muhammad Shahjalal and other officials of the District Administration were present. The meeting was conducted by Deputy Director Mohammad Abdul Mannan.
Mohammad Majeedul Haque, Director, MRA gave a welcome address and Mohammad Noor Alam Mehedi, Director, MRA presented a power point presentation and documentary on the latest updates in the microfinance sector.
The chief executives/heads of the certified organizations in the Chattogram region expressed their views on various activities of the government and MRA.
The chief guest expressed satisfaction over the activities of the microfinance institution. He counseled on all these activities to promote publicity and increase communication with the local administration. He said that legal recognition of microfinance institutions is a special initiative of the government.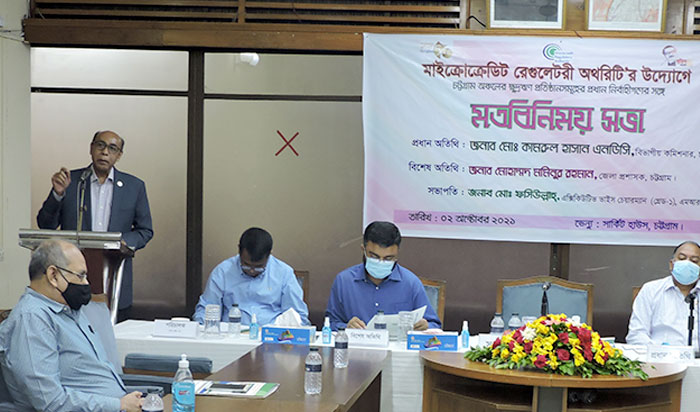 In his speech, the Executive Vice Chairman of the MRA Md. Fasiullah mentioned that the microfinance institutions are playing an important role as an ally of the government to build the country as 'Sonar Bangla', the ideology and philosophy of Father of the Nation Bangabandhu Sheikh Mujibur Rahman. He praised the role of the certified organizations in countering the impact of COVID-19.
The Microcredit Regulatory Authority (MRA) has been established by the Government of the People's Republic of Bangladesh under the "Microcredit Regulatory Authority Act 2006" to promote and foster sustainable development of microfinance sector through creating an enabling environment for NGO-MFIs in Bangladesh. MRA is the central body to monitor and supervise microfinance operations of NGO-MFIs. License from the Authority is mandatory to operate microfinance operations in Bangladesh as an NGO.