Community Partnerships to Strengthen Sustainable Development Program (COMPASS), is an interagency partnership activity of USAID Bangladesh and the United States Forest Service, International Programs (USFS/IP). USFS/IP implements the program to address natural resource management challenges in Bangladesh, through establishing a Youth Conservation Corps (YCC), increasing community capacity and promoting public participation, providing technical support to the Bangladesh Forest Department, as well as strengthening the capacity of the academic and research institutions in natural resource management and resilience. COMPASS has been implementing the program with the collaboration of Young Power in Social Action (YPSA), Green Savers, TAHZINGDONG, and the Academy of Information Technology (AIT).
The program provides both theoretical and hands-on training including community services as well as an internship on leadership, suitable trades, environmental stewardships and others to youth. The 1st Cohort of YCC training was completed with the participation of 39 (17 Women and 22 Men) trainees on 30 December 2021 and started a one-month internship from 03 January 2022. The YCC program has planned to facilitate the job linkage with the YCC graduates. In that perspectives, YPSA with the collaboration of AIT organized a two-day (29-30 January'2022) job fair in Hotel Windy Terrace, Cox's Bazar. To consider the COVID-19 restriction, the event duration is half day with minimum participants.
The purpose of the job fair is to create job opportunities for YCC graduates. At the same time facilitate an opportunity for employers for getting skilled employees for their business/company. The youth graduates and employers will use this connection for further correspondence, collaboration and mutual benefits.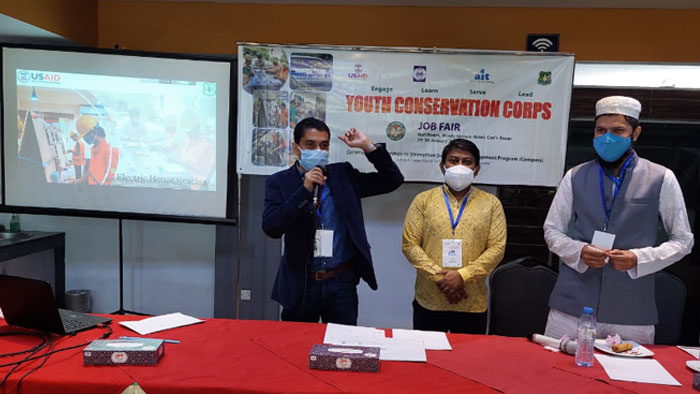 The job fair approaches were interactive, innovative and participatory. Job seekers/trainee were shared the experiences, learning and skills to employer. Internship providers were shared the teaching approaches and comments in interns. Job holders shared their expected demand and overall comments on trainee. Finally a break out session was held between the job seeker and job providers. This break out session creates a native environment between job seeker and employers. This session helping on establishing a professional relation in between and employers collects the contact information of job seekers. For easy to understanding here mentioned shortly the steps on innovative successful job fair.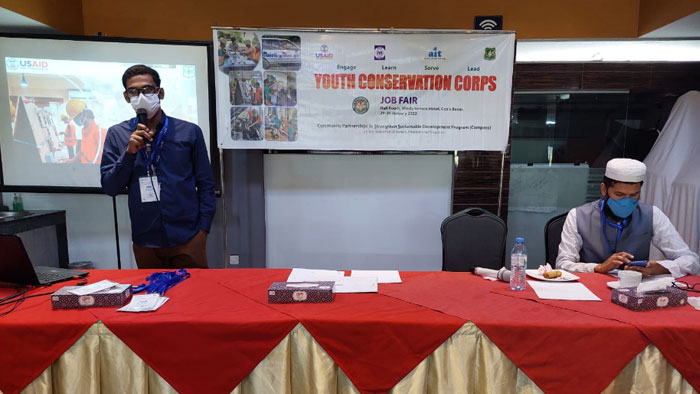 First day of Job Fair (29 January' 2022) starts with the welcome speech of Mr. Yousuf, Project Coordinator, YPSA-COMPASS Project. He briefly discussed the background of this fair and rationale. He thanked to all participants and organizations that's joined in this fair. Later on Mr. Nazmul Karim Faruq, Chairman, AIT, Cox's Bazar described the objectives of this job fair. Mr. Mk Taufiq, Advisor, Youth Conservation Corps (YCC), US Forest briefly presented on US Forest and YCC.
Mr. Taufiq said that this is the first job fair in Cox'sBazar of YCC- Compass program that organized by YPSA and Academy for information and Technology (AIT). He said that Cox's Bazar is tourist city and most attractive city to tourist in Bangladesh. At present, numbers of national and international NGOs are working here for Rohingya response program and huge numbers of luxurious hotels are here. As a tourist destination, there are many types of job opportunities and possibilities. So, this kind of job fair for the youth opened a new window for job seekers. Compass program are now providing different kinds of skill development vocational, Technical and Leadership Development training to selected marginalized youth. As well as motivated youth on natural resource management. This training is fully residential. Intensive internships have been arranged for the students at the end of the training. As a result, the students here have been enriched with theoretical knowledge as well as practical knowledge which will help them a lot in their working life. Finally, he thanked to YCC graduates and job service provider and Internship providers.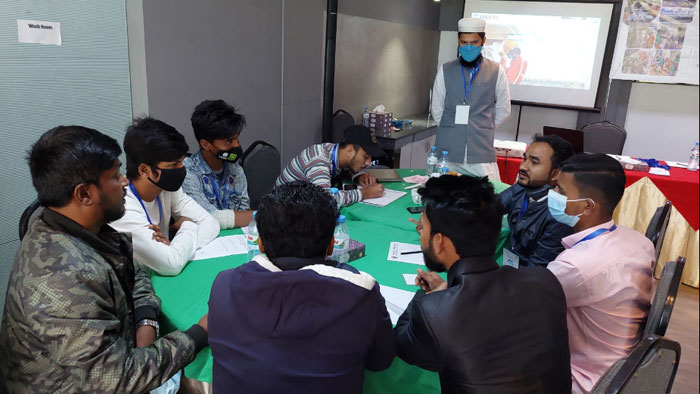 In this session, YPSA invited selected youth graduates to share their experiences in YCC training with the learning from vocational training and internship. In that session Mr. Morshed, YCC Graduates- Tailoring Course said that I would first like to thank YCC. As a marginal youth like me for such training is a matter of luck. In that training I learnt the leadership skills, interpersonal communication skill, importance of volunteerism and natural resource management not only tailoring knowledge. Moreover, I also received an intensive internship. This internship helped me acquired practical knowledge along with my theoretical knowledge. I also thanked to my internship providers.
At reflection session, Internship providing company shared their reflections and comments on interns. Internship providing company shared that the interns preformed their best at internship period. For instance, Mr. Ashutush Nath, Proprietor, Anik Tailors, Cox's Bazar Said that his intern Mr. Morshed was good learners. He bearing the positive attitude and eagerness to learn. Whoever hires him will be benefited.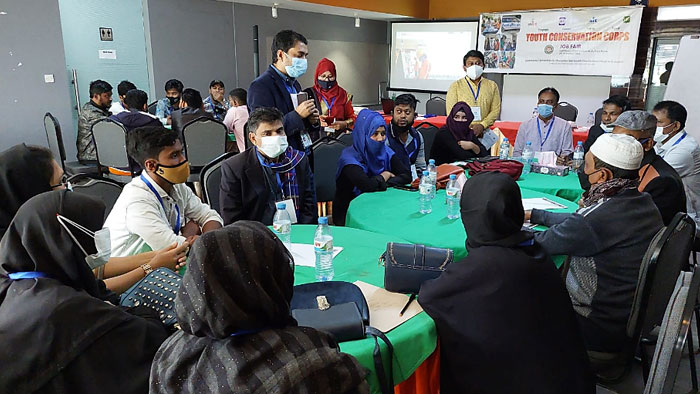 In sector-based break out session, Mr. Yousuf Ali divided two groups with the base of their acquired knowledge at YCC training. One group is tailoring and another is electric training course. Participants are connected to their respective groups based on their skills. The tailoring group is facilitated by YPSA and electric group is facilitated by AIT. The facilitators convinced job providers on pursuing job or business collaboration with the youths. As well as established a direct connection between them. Finally, this breakout meeting was successful most of the Job providers committed to allocate job to YCC graduates. For instance, in this job fair seven graduates on tailoring course were participated and this fair ensured job for six graduates, alike three graduates on electrical training were participated and this fair ensured job for three graduates. And six graduates on driving courses participated this fair ensured job for five participants.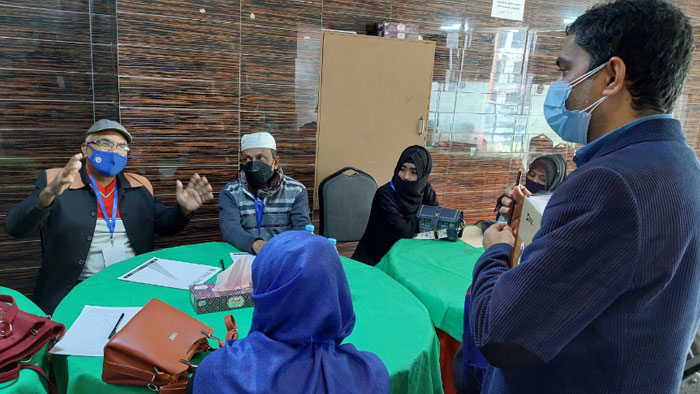 Alike, on same approaches the second day (30 January 2022) of job fair was held. This day only driving course graduates were attended. All over the job fair, we have been following the rules of hygiene and following the instructions of the government on COVID-19.
At the concluding remark session, Abdus Sabur, Youth Focal, YPSA thanked to all especially the job holders and job seekers. Mr. Sabur said that YCC is an innovative program where ensured the engage, learn, serve and lead approaches. He further said that the participants here are more advanced than other candidates in the market and there have sound subject matter knowledge with the personal development skills are emphasized. So that they can strive to retain their qualifications in any organization starting from local to international level. We are confident about the guarantee of these job seekers and are ready to provide any assistance to the employer in this regard. He also said in the future, we will build an alumni network so that we can stay connected.