Tom Miscioscia, Country Director of British Council Bangladesh visits several Social Action Projects (SAPs) of YPSA LEAD Bangladesh Project in Chattogram. YPSA with the support of The British Council is implementing the 'Leadership for Advancing Development in Bangladesh (LEAD Bangladesh)' project to empower young people as leaders in their communities to identify innovative, sustainable solutions to local and global challenges.
The Country Director met with youth leaders, community people and stakeholders, as well as observed how youth made changes in their community.
Firstly he went to YPSA LEAD Bangladesh Social Action Project "My house, my responsibility" at Nabinagar area and talk with youth leaders and notice about how this Social Action Project helps improve waste management in households in Nabinagar area. After that he moves to Hill View Public School to observe another Social Action Project "Students Climate movement". He talked with youth leaders about how their initiatives bring tremendous change in community to reduce climate change affect.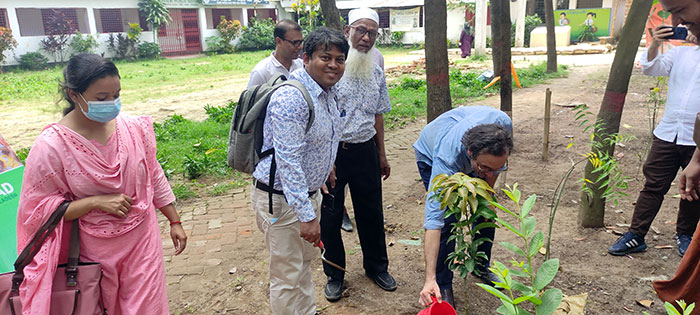 Besides, he plants one fruit tree in Hill View Public School yard to encourage youth climate initiatives. Md. Abdur Rahman Khan, Project Manager-Inclusive Communities, Programmes, British Council Bangladesh; Md Abdus Sabur, Youth Focal and Program Manager, YPSA; Mohammad Jasim Uddin, Project Coordinator, YPSA LEAD Bangladesh; Youth leader M.A Hanif, Shahadat Hossain, Setar Rudra, Aongsahla Marma were present.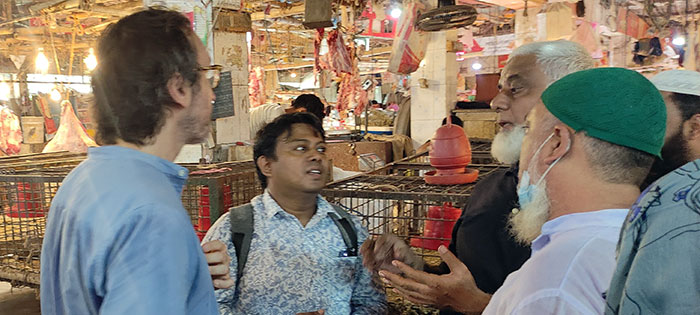 Then, Tom Miscioscia visits 2 no gate, Kornofully Bazar where YPSA Lead Bangladesh Social Action Project "Polythene free Kornofully bazar' team is working there. Youth leader Parveen Akter Munni and her team explained to Tom about their initiatives to reduce polythene bags in Kornofully bazar. He was impressed and fascinated to see the youth initiatives about Polythene free Kornofully bazar because fish sellers at Kornofully bazar starts using cloth bag instead of using polythene. Besides, Tom talks with few fish sellers as well as Kornofully bazar committee members. Bazar committee president Alhaz Md Yukub Ali explains how bazar committee will monitor and implement for reducing polythene usage in Kornofully bazar.
Tom Miscioscia, country director of British Council, shared that, YPSA is taking tremendous initiatives in the development sector, so British council will help YPSA at the near future not only in YPSA LEAD Bangladesh project but also in any kind of interventions in development sector.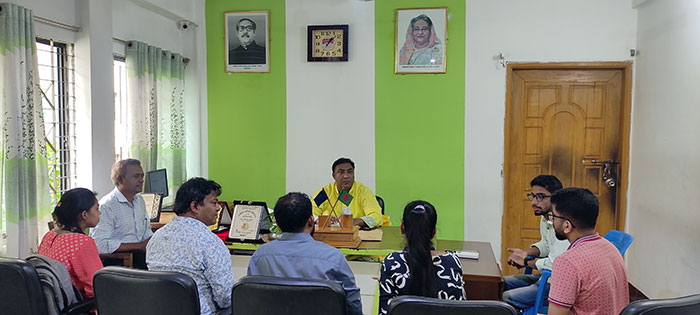 Moreover, YPSA LEAD Bangladesh team meet with Md Morshed Alam, Ward councilor, 08 no ward and he gave thanks and congratulate YPSA LEAD Bangladesh social action project team members of "Polythene free Kornofully bazar" team for their tremendous initiative to implement polythene free Kornofully bazar. Moreover, he assures that he will give all kinds of support to polythene free Kornofully bazar team members at future to make the initiative sustainable.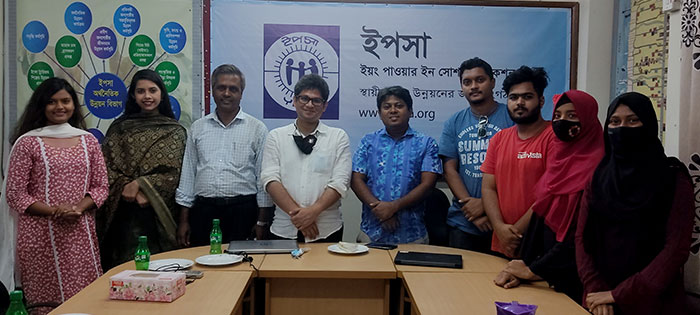 At afternoon, Social Action Project (SAP) showcasing program was held at YPSA head office, Chittagong. Here six SAP leaders such as Fojila Akter, SAP leader of Save Askardighi, Sumi AKter, SAP leader of Green kolpolok, Shamima Akter Sadia, SAP leader of Fridya's For Future, Minhazur Rahaman Shihab, SAP leader of Project of soloving water logging at Rosolbag residential area, presented their social action project and describes about their future initiatives In the whole SAP showcasing process, Md. Abdur Rahman Khan, Project Manager-Inclusive communities, Programmes, British Council Bangladesh, Md Abdus Sabur, Youth Focal and Program Manager, YPSA, Mohammad Jasim Uddin, Project Coordinator, Shovan Chowdhury, Project Officer, YPSA was present in this meeting and shared their valuable feedback.
Overall, the field visit was really positive, impactful, tremendous, and motivating for young people to take more climate change-related initiatives in the community level.