A discussion meeting titled "Model Waste Management Pilot Project Assessment and Next Planning Meeting" was held at the Conference hall of Chattogram City Corporation (CCC) On 19th February. CCC, YPSA & Save the Children organized the meeting to discuss about the waste management progress in Nabinogor at Ward 7 and discuss about the next planning according to the findings.
Chief Executive Officer and Joint Secretary of CCC, Mr. Sheikh Mohammad Touhidul Islam attended the meeting as Chief Guest and thanked YPSA and Save the Children for the successful implementation of Model Waste Management Pilot Project in Nabinogor. He affirmed, "CCC will count on the success and use the learning for future waste management planning development in Chattogram." Supervisor of Ward 7 praised the initiative and mentioned the visible changes in community behavior for waste management and improved drainage and waste collection system.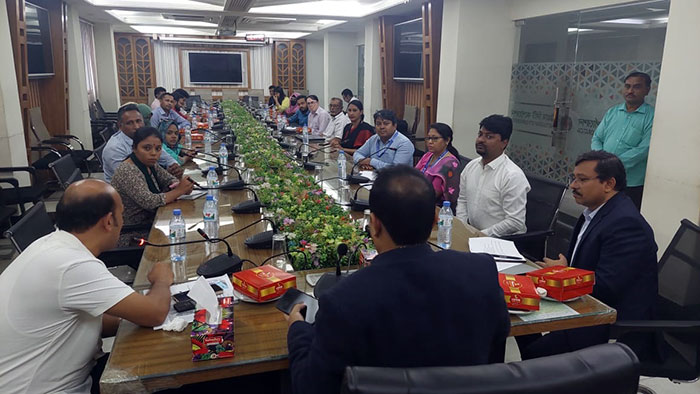 At the beginning of the event Ms. Nasim Banu, Director of Social Development welcomed all and shared the objective of the meeting. Next under moderation of Ataul Hakim, Project Officer of YPSA, YPSA gave two presentations on Model Waste Management Pilot Project and Plastic Waste Management Project. Ms. Sanzida Akter, Project Coordinator and Mr. Abdus Sabur, Program Manager & Focal Person- Youth gave the presentations respectively. During the presentation, a brief illustration of YPSA's activities under six thematic areas of YPSA was informed to CEO of CCC.
After the presentation, Mr. Mobarak Ali, Ward 7 Councilor and the President of Waste Management Standing Committee moderated a discussion panel. Mr. Md. Abul Hashem, Chief Conservancy Officer (acting) and Privet Secretary to Hon'ble Mayor, Mr. Khaled Mahmud, Secretary of CCC, Abul Selim, Secretary of Nabinogor Unnoyon Committee, women group members of Nabinogor and journalists from prominent news and print media participated in the discussion.
During the discussion Mr. Mobarak Ali, explained about the project implementation methods and outcomes. Especially he answered why Nabinogor was chosen for the pilot project.  He said, Nabinogor was feasible and small community to implement safe community initiative as the community was disaster prone to landslide, waste mismanagement, fire incident and earthquake. He affirmed that although the project has completed the implementation process, the initiative is still ongoing through community own contribution which is a huge model for Chattogram city Corporation.
At the end of the meeting Nasim Banu, Director of Social Development, YPSA handed over the assessment report to the Chief Executive Officer and Joint Secretary of CCC, Mr. Sheikh Mohammad Touhidul Islam.