Global Law Thinkers Society (GLTS) organized "Green Human Wall" on March 26, the Great Independence Day of Bangladesh, at CRB in Chattogram. This event is organized several countries worldwide. In Bangladesh, this event was organized simultaneously in eight divisions. The purpose of this 26-minute human wall is to show commitment and solidarity for building a green world.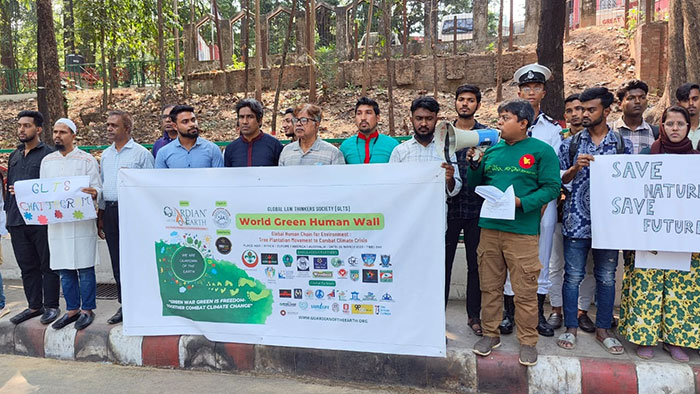 YPSA is coordinating in Chattogram division for organizing the green human wall with the Positive Thinkers. About 200 participants took part in this human wall, most of them youth.
Abdus Sabur, Head- YPSA Center for Youth and Development (YPSA-CYD) presided over the event. The program started by playing the national anthem and paying tribute to all the brave freedom fighters and martyrs who participated in the liberation war.
Professor Dr. Muhammad Edris Ali, freedom fighter and Chief Coordinator, Bangabandhu, Center for Liberation War and Environment Studies was present as the chief guest in this green human wall ceremony. He thanked the organizers and the participating youth for joining this green youth movement. He also said that everyone has to work together to deal with the climate change.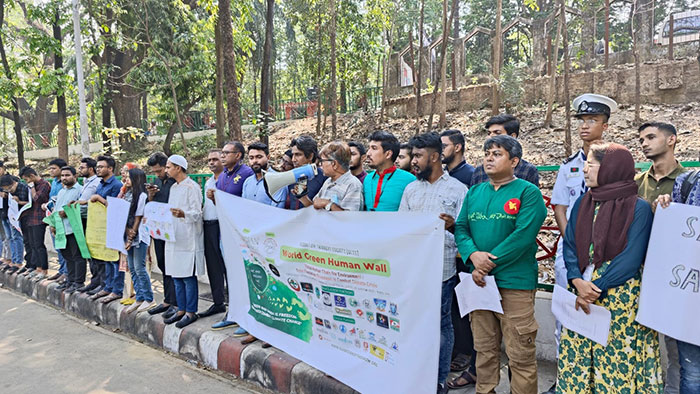 Monir Hossain, Coordinator, World Record, Green Human Wall, Chittagong Division gave a speech on the occasion about World Record and Green Human Wall. Other speeches were given by Ziku Chowdhury, Founder President, Positive Thinkers, Setar Rudra, Project Officer, YPSA, Shahdat Hossain, Youth Leader and Imtiaz Hossain, Environmentalist, Chattogram.
The Global Law Thinkers Society has taken this initiative to ensure the Sustainable Development Goals by 2030 called "Guardians of the Earth [GEarth]" to unite the people of the world, including Bangladesh, to commit to environmental restoration. The main objective of this campaign is to build a world record in protecting the environment and addressing the risks of climate change through global human connection. The slogan of this campaign was "Green war, Green liberation, Stop climate change together".
Bangladesh Scouts, Waterkeepers Bangladesh, YPSA (Young Power in Social Action), Positive Thinkers, Amra Sobai Foundation, Somprity and Souhardo, CSWPD and many others are associated with this innovative campaign.